Kielce to EHF CL TOP 8!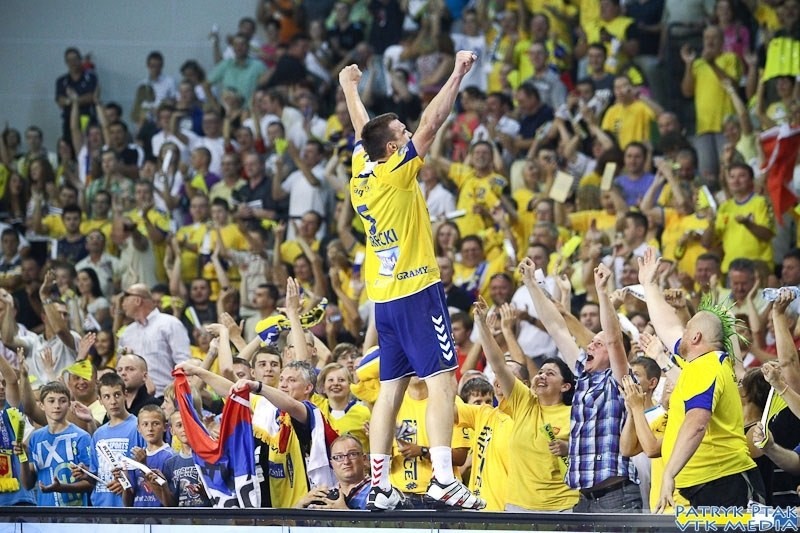 In the return match of the Last 16, Vive Tauron Kielce beat at home Meshkov Brest 33:30. Having a 4-goal-advantage from the first game, Polish champions have secured a place in the quarterfinals.
The beginning somewhat resembled the last week meeting in Brest – a tight game resulted from good performances of both teams. The guests took a lot from Kielce mostly due to Rastko Stojković. The pivot made some damage and was a problem for Kielce's defence, but on the other hand, this defence managed to stole the ball from attackers a few times and nailed counterattack goals. This tight game lasted for almost twenty minutes but saves of Marin Šego allowed hosts to take 2-goal-advantage in 21. minute (10:8). Šego's good performance and good job of the defence made the gap grow to 3 goals and Kielce seemed to have the game under control. However, they didn't take advantage of the chance to lead by 4 while Brest did take advantage of a few unsuccessful Kielce's attempts in attack and equalised at 14:14 in 30. minute.
Vive Tauron Kielce – Meshkov Brest 33:30 (14:14)
Vive: Sego, Szmal – Aquinagalde 5, Bielecki 3, Buntić 6, Chrapkowski, Cupić 3, Jachlewski, Jurecki 2, Kus, Lijewski 2, Paczkowski, Reichmann 5, Strlek 5, Zorman 2.
Meshkov Brest : Pesic, Charapenka – Atman, Babiczew, Baranow 5, Kamyszyk, Kristopas 5, Kulak, Nikulenkau 3, Razgor 4, Szumak 1, Szyłowicz 2, Stojković 7, Tiumencew 3.
The second half began with quite a surprising goal scored by Michał Jurecki from the right wing but Stojković answered right away by putting a ball in Šego's goal. The game was tight again but it turned out that not for long. A series of unfortunate events such as Shumak's 2-minutes-suspension for an incorrect change, attacker's foul and Šego's saves made Brest losing by 3 again. Having conceded four goals in a row, coach Bebeshko called for a time out but it didn't bring the desired effect; in fact, Kielce got ahead by 5 (25:20, 48. minute). When the situation seemed to be under control once again, Brest got Kielce back and this time it was them who scored four times in a row and nearly equalising again (25:24, 52. minute). The Polish team had problems with getting through their opponent's defence and Vitali Charapenka in the goal but Denis Buntić helped his team catch their breaths and broke the temporary malaise scoring for 26:24. A minute before the final whistle Brest was close to equalising again but Kielce hit back with two goals of Aginagalde and Štrlek, and thus sealed the victory.
Stojković and Buntić finished as the game's top scorers with, respectively, 7 and 6 goals.
TEXT: MARTYNA USNARSKA