Kielce beat PSG for the first EHF CL Final!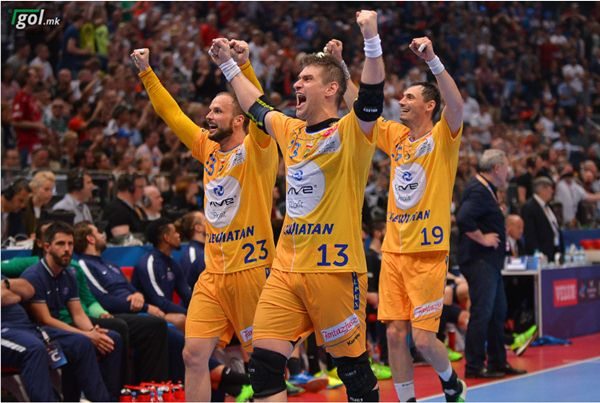 Vive Tauron Kielce are finally just one a step to the heaven! The Polish champions beat PSG Handball 28:26 (16:16) at the first semi-final of the VELUX EHF FINal 4 in Cologne, breaking the "bad luck" of losing in semi-final clashes in the first two attempts! The yellow team outplayed the "dream-team" from Paris in the impressive battle which was undecided until 80 seconds before the final whistle, when Manuel Štrlek netted for +2 and just after it Igor Vori made foul over Reichmann for direct red card.
Vive Tauron Kielce – Paris Saint-Germain HB 28:26 (16:16)
Vive: Szmal, Sego – Jurecki 5, Tkaczyk, Reichmann 4, Chrapkowski, Kus, Aguinagalde 3, Bielecki 1, Jachlewski 1, Strlek 4, Lijewski 4, Paczkowski, Zorman 4, Cupić 2.
PSG: Omeyer, Annonay – Melić, Mollgaard 1, Accambray, Vori 1, Kounkoud, Gunnarsson, Abalo 3, L. Karabatić 1, Hansen 10, Narcisse 1, Onufrijenko 5, Honrubia 2, N. Karabatić 2, M'tima.
Despite both defenses began match with rough fouls on Karabatić from one and Jurecki from another side, they were only a symbolic help for Szmal and Omeyer between the posts in the first half of the match. The EHF CL TOP scorer Mikkel Hansen was simply unstopable for the Polish defense with nine goals in the first 30 minutes. His powerful shots were something the best which was offered for the 20.000 fans at Lanxess Arena.
PSG were on 6:3 in 10th minute, what was the highest advantage of one team during the match. The Polish team managed to come back to the game with some goals of Jurecki and Zorman, but also a few saves of Slawomir Szmal which was necessary for stability of Talant Dujshebaev boys.
Poles showed great energy at the start of the second half providing their fans a lot of joy with lead 19:17, but that was a sign for Thierry Omeyer to wake up. With four saves in three minutes, Titi stopped Poles and helped his team to turnover result on 20:19. That was a call for time-out of Polish bench in 43th minute.
The match stayed open until the last part where few good defense by Poles became decisive for their first ever EHF CL final.
PHOTO: Filip Viranovski, gol.mk