BLOG by Nikola Foretic: Runners run & Players play (2)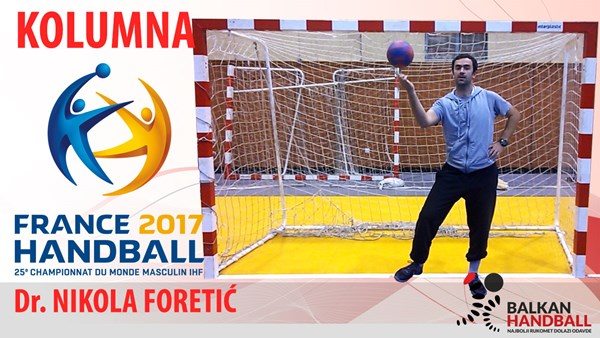 BLOG BY PhD Nikola Foretic (Qatar Sports Club coach)
Preliminary round of WC is over and real competition is about to start. There weren't many result surprises after 60 matches. Just 3 non European teams went to 1/8 finals: Brazil, Egypt and Qatar. It will be very hard for any of these teams enter quarterfinal according to their opponents (Brazil – Spain, Egypt – Croatia, Qatar – Germany). Only European team that didn't qualified for knock-out phase is Poland. Talant Dujshebaev took relatively young team (25.2 years) to WC. This team is composed from players that play exclusively in Polish clubs where they don't have major roles. Disadvantage is also lack of international experience hence Polish players played just average 27.5 games for national team. If you compare this, for example, with Norway (25.8 years) whose players have 58.6 games average, it is easy to see they need more experience.
Also there were none tactical surprises. All teams defended dominantly with 6:0 defense formations. To break the rhythm of opponent attack just Croatia, Macedonia, Brazil and Spain used 5:1 defense. We were no able to see other defense systems.
As expected, Scandinavian teams dominated in attack transition. From that attacking phase Iceland was scoring 8.8, Norway & Sweden 8.6 goals per game. Totally, teams with most attacking intensions were Sweden (32.4 goals per game), Spain (32 goals per game), Germany (31.8 goals per game), Denmark (31.4 goals per game) & Norway (31 goals per game),
The most consistent of all teams was France. Constant pressure on their opponents is very impressive. It starts with rock solid defense and transfers through all phases of attack transition. French positional attack has high efficiency (66%) with strongest point in shoot out of 9 meters since there is no player in the team that can't score outfield shoot. Along with France, and according what we've seen, it's justified to expect Denmark, Germany and Spain in medal fight.
Sweden is youngest team of WC (24.6 years) that changed coach and many players after Olympic Games. They play very fast, high-quality and nice to watch handball. But, handball history teaches us that this is not enough for achieving great results. Very good impression left Norway national team also. It strength could be seen in very tight match against France (lost 28-31). All other opponents from the group they literally over classed.
EIGHT FINALS "FAVORITES"
1/8 finals "favorites" are bolded:
NORWAY – MACEDONIA / FRANCE – ICELAND / RUSSIA – SLOVENIA / BRAZIL – SPAIN / EGYPT – CROATIA / QATAR – GERMANY / SWEDEN – BELARUS / DENMARK – HUNGARY
However, we should be very careful with result predicting hence every team has its own calculation and search for its chance. There is no time for detailed tactical preparations, just for interventions and few bombshells. But daily form, special motivation and national pride can be additional impulse that take player to the higher playing level than he perform in his club. So we hope for nice handball, without referee exhibitions, but with some sporty surprise because:
"… in one game everything is possible… "