BREAKING NEWS from Skopje: Welcome to SEHA GAZPROM Final4 2018!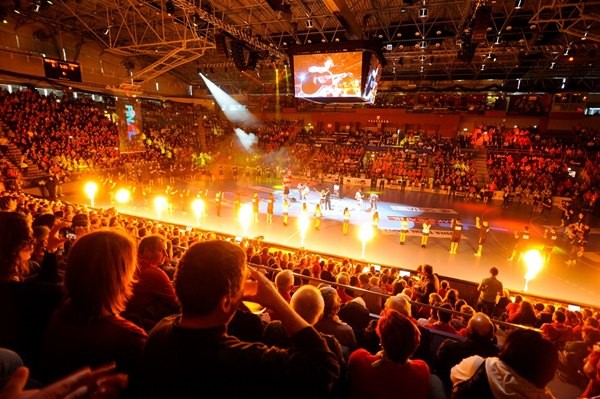 The SEHA Gazprom League Final4 will take place in Skopje's hall "Jane Sandanski", the home of RK Vardar Skopje between April 13 and 15, announced SEHA Gazprom League.
The four best teams in current season – RK Vardar Skopje, RK PPD Zagreb, HC Meshkov Brest and RK Celje Pivovarna Lasko will fight for the trophy at one of the best organized event in world of handball in the recent years.
Take a look what Stojance Stoilov has to say…
"It is our great pleasure and honour to announce that the 7th Final 4 will once again take place in Skopje, Macedonia. We are delighted to have Final 4 in Skopje, for the 2nd time since Vardar are current European and SEHA titleholders. Vardar have a long, successful handball history, last season they won everything one club can win in a single season and we are sure that the Macedonian fans will experience and enjoy the best handball in the region and that the stands will be full. We will give our best to organize the event on the highest level and we are sure that the teams, which will compete on Final 4, will show the best of regional handball. Let the best one win", said Sinisa Ostoic, managing director of the SEHA – Gazprom League.
"We are happy that the SEHA – Gazprom League management decided that this season's Final 4 will be in Skopje in our hall SC Jane Sandanski. As the reigning champions of this regional competition and one of the rare teams that has been in SEHA from its start, it is an honour for Skopje to host it for the second time. This once again confirms that handball is the sport number 1 in Macedonia, and Vardar is a team that is recognised not only in the region, but in European and World circles. 3 SEHA titles are a plus as well and now we are playing in front of our fans. Participation of big handball like PPD Zagreb, Meshkov and Celje is a great sign for an exciting and a high-quality tournament. SEHA- Gazprom League has grown to become more than a regional competition and we are better every season, so I know this tournament will be a success. I believe that we will enjoy in great matches. I invite you to come to Skopje from 13th to 15th of April", said Davor Stojanoski, executive director of HC Vardar and co-organizer of the Final 4 in Skopje.