Come to the 5th SARIUS CUP in Presov (Slovakia)!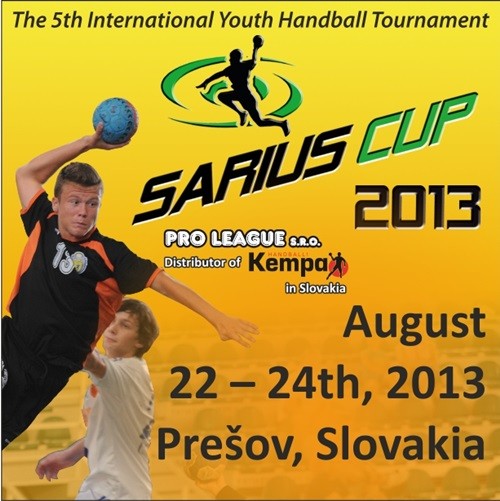 The most known center of Slovakian handball, city of Presov becoming even more popular outside the national border with two TOP quality Youth tournament – New year's Kempa Cup and summer event – Sarius Cup from 22nd to 24th of August. "Sarius Cup" organisers expect almost 100 teams from the various countries, part of Europe and different handball schools. The previous years of good organization are good base for the optimism in Presov.
One of the biggest and most important advantages in the time of financial crisis is the price of the participation in comparation with high conditions which Sarius Cup could provide. Tournament in Slovakia is one of the most affordable in Europe! That would be one of the biggest motive to youth handball teams and schools from the various part of Europe to come and enjoy their time in Slovakia.
Sarius Cup is the first time organized in 2009. Since then from 19 teams (4 countries) tournament raised in the event with 53 teams from 11 countries in 2012 in seven categories. The majority of teams coming from neighborhood, but also from Switzerland or Russia…
– We want to break current record and try to host between 70 and 80 teams next summer in Presov – says for Handball-Planet.com Andrea Kundrikova, member of "Sarius Cup" organizing team.
For the most successful teams, the worthy prizes are provided.
"Sarius Cup" prepares promo-offer for all possible teams.
Coaches will get accommodation and fullboard during tournament for free if 3 condition will be satisfied:
– Registration form will be sent,
– Participation fee will be payed (according to number of participating teams from one club)
– Deposit 100 Eur per team will be payed.
Organisers are interested to host referees with international background who could come with the teams from their countries. "Sarius" Cup could be interesting destination for all the teams who are planning Central Europe tour between the youth tournament in Hungary and Poland in order to gain more international experience.
"Sarius Cup" could be remembered also by non-handball activity such a visitng aqua-park or planetarium:
Here are the categories:
BOYS – U17/1997/, U15/1999/, U14/2000/, U13/2001/, U12/2002/
GIRLS – A17/1997/, A15/1999/, A14/2000/, A13/2001/, A12/2002/
APPLY AND COME TO "SARIUS CUP" IN PRESOV