EHF CL: THW Kiel overtake third place in Schaffhausen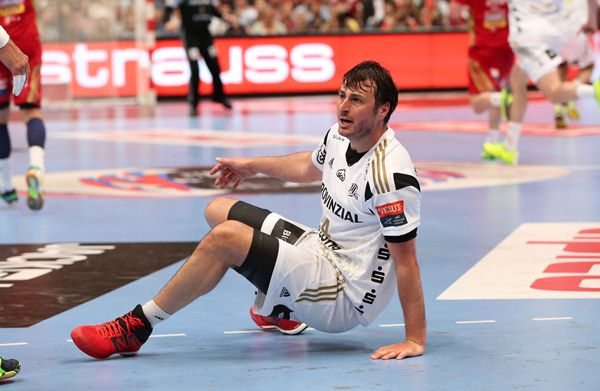 THW Kiel win in Schaffhausen 35:30 (13:13) to overtake the position number 3 in Group B. The Swiss champions with the new coach were able to give a fair resistance to the German favorites, but without any pressure on the final result.
The "Zebras" are now on the position ahead of Veszprem and decisive match for No.3 could be the next one in which Hungarian will visit "Sparkassen Arena" in Kiel on Wednesday – 18.30.
Kadetten Schaffhausen: Bringolf (n.e.), Marinovic (1.-42., 47.-60., 7/1 saves), Kindle (42.-47); Meister (4), Delhees (2), Liniger (n.e.), Küttel (5), Richwien (n.e.), Graubner, Pendic (3), Brännberger (1), Csaszar (5/1), Markovic, Maros (5), Muggli
THW Kiel: Landgraf (n.e.), Wolff (1.-60., 18 saves); Duvnjak (5), Toft Hansen (1), Lackovic, Sprenger, Dissinger, Wiencek (1), Ekberg (8/3), Zeitz (1), Dahmke (n.e.), Brozovic (n.e.), Vujin (5/1), Bilyk (3), Nilsson (4), Santos (2)
STANDINGS:
1. FC Barcelona Lassa
10
9
0
1
293
:
252
(41)
18
2.

Paris Saint-Germain Handba…

9
7
0
2
280
:
248
(32)
14
3. THW Kiel
10
5
1
4
256
:
256
(0)
11
4. Telekom Veszprém
10
4
2
4
261
:
260
(1)
10
5. SG Flensburg-Handewitt
8
4
1
3
204
:
192
(12)
9
6. Orlen Wisla Plock
9
2
2
5
231
:
243
(-12)
6
7. Bjerringbro-Silkeborg
9
2
0
7
227
:
257
(-30)
4
8. Kadetten Schaffhausen
9
1
0
8
235
:
279
(-44)
2