Fantastic day finished with total European triumph in both competition!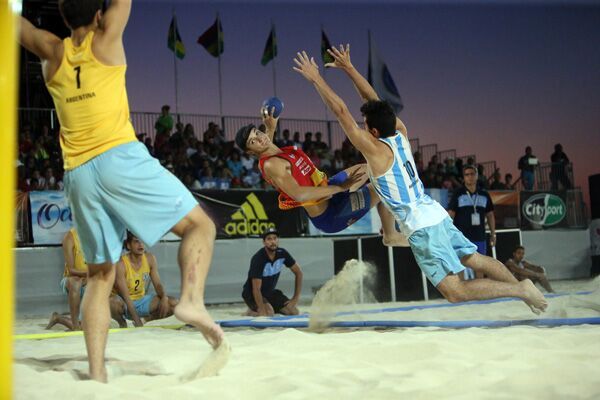 Sunday early afternoon, on the sand of the Central court of Beach Handball complex on Flik & Flak beach, we will see teams of Nederlands and Hungary in girls' and Spain and Italy in boys competition playing decisive matches for medals.
"Knock out Saturday" brought a lot of fantastic matches, while temperature off and on the field started to grow from the first quarter finals.
Girls of Nederlands deserved all authority before finals as they made 2 straight victory over Thailand (1/4F) and Argentina (1/2F). Other finalist – Hungary sent out from medal matches Spanish girls in quarter finals' match won in the "shoot out" and later, in match of semi finals, sent team of Portugal to bronze medal match after straight victory – 2:0.
Two other semifinalists, Portugal and Argentina had very difficult task in quarter finals: they eliminate excellent teams of China and Chinese Thaipei – both in "shoot out".
In male competition, both Spain and Italia had two time 2:0 victories on Saturday against TPE and ARG (Spain) and VEN & RUS (ITA). Bronze medal winner will be decided in match between Argentina and Russia.
Atmosphere on the Central court was quite warm all the day and everything culminate while sunset has coming. Fue "holas" witnessed fantastic atmosphere among the spectatores that filled out all four stands.
On Sunday, which is final day of U17 WCh, matches starts at 9:30 (GMT+4 time) and some of the morning session matches will be the key for some teams in their efforts to obtain "ticket" for YOG in Buenos Aires 2018. However, most important comes at the end and it will start at 14:00h with bronze medal matches in girls' competition. On each round hour will start matches with last one, boys' finals at 17:00h.
PHOTO credit: Stephane Pillaud / IHF