Final weekend on Mauritius start with knock out stage!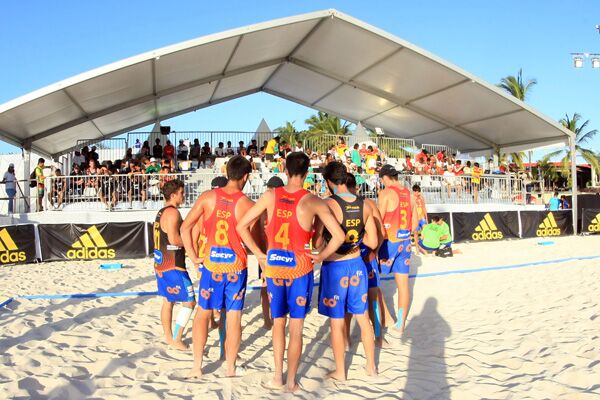 Main round ended on Friday and now are known pairs of QF. Teams of Netherlands and Portugal (girls) and Spain and Russia (boys) ended this that phase of competition as best ranked. Saturday morning will bring most interesting matches to the program on the courts on the Flic&Flac beach on Mauritius.
Starting from 9:30h (local time which is GMT+4) boys knock-out 1/4F phase will start with matches RUS – POR (Central court) and VEN – ITA (Court2) and then at 10:20h program will continue with two new matches: TPE – ESP (CC) and THA – ARG (C2).
Girls will enter on the big stage at 11:10h with first two quarter finals NED – THN (CC) and ARG – CHN (C2). Two last 1/4F will start at noon: TPE – POR (CC) and HUN – ESP (C2).
Afternoon session will culminate at 16:30 (GMT + 4) when will start semi finals in both boys and girls competition. All matches of 1/2F will be played on Central court.
X.Q
Photo credit: Stephane Pillaud/IHF