GREEK HANDBALL LEAGUE: A.E.K Athens only with 100%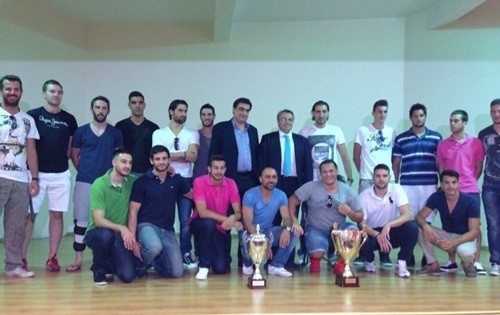 After four rounds of the Greek Championship, current champion A.E.K Athens lead with 100% of success as the only team who are still without mistake. Team from the capital beat one of the biggest rivals, ex- Challenge Cup winner and Greek champion from 2012, Diomidis Argos 27:25 in away match and made a serious step to secure the leading position until end of the first part of the competition.
A.E.K Athens will have a chance to qualify for the Group stage of EHF Cup against Swedish Luigi.
STANDINGS:
1.
A.E.K. Athens
4
4
0
0
+35
132
97
8
2.
AO Loutrakis
4
3
1
0
+22
124
102
7
3.
AC PAOK
4
3
0
1
+8
107
99
6
4.
Diomidis Argos
3
2
0
1
+13
80
67
4
5.
Foivos
3
2
0
1
+2
80
78
4
6.
A.S.E. Doukas
4
2
0
2
-6
92
98
4
7.
Aeropos Edessas
4
2
0
2
-8
114
122
4
8.
G.A.S. Kilkis
4
2
0
2
-8
85
93
4
9.
H.A.N.TH
4
1
0
3
-2
100
102
2
10.
Anagennisi Byrona
4
1
0
3
-9
89
98
2
11.
AS Filippos Verias
4
0
1
3
-15
93
108
1
12.
Archelaos
4
0
0
4
-32
98
130
0