HAT-TRICK: Sander Sagosen is SportHero Young World Player 2016/2017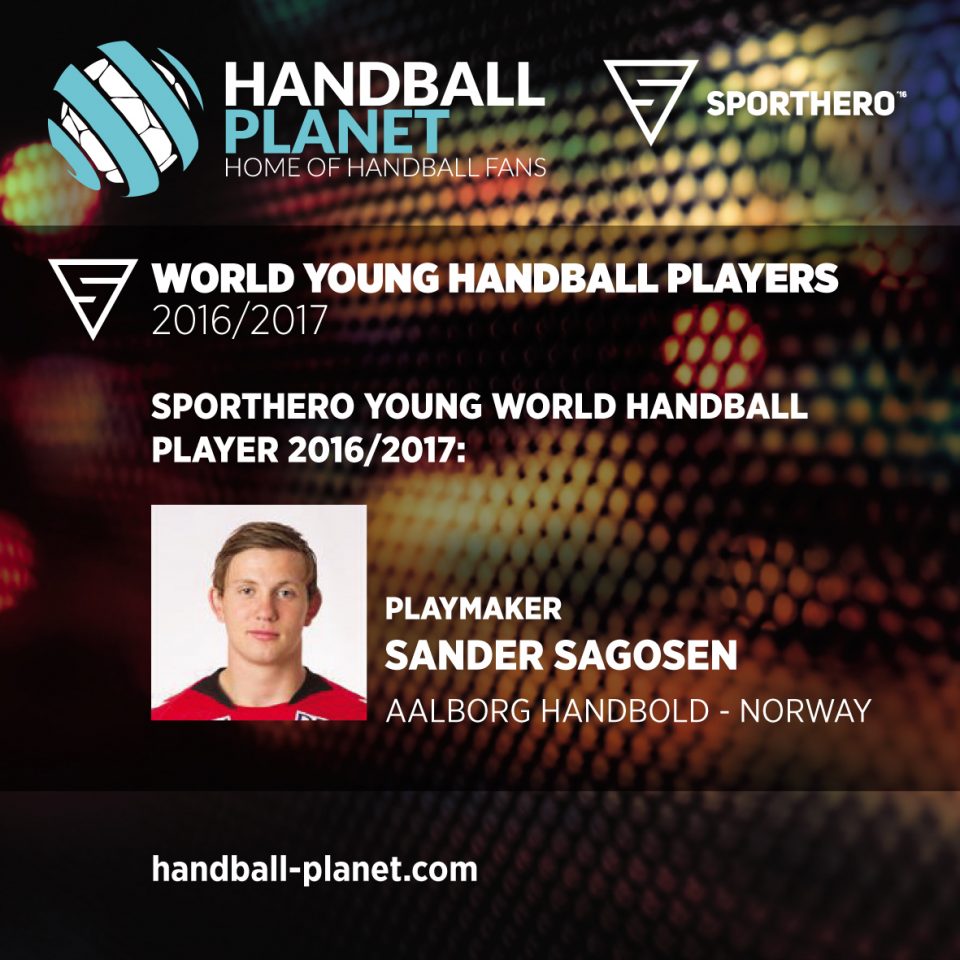 Handball-Planet.com is pleased to announce the results of Voting Contest for the SportHero Young World Handball Player. Sander Sagosen (1995), the leader of Norwegian silver medal squad at World Championship 2017 in France and Danish Aalborg best player in winning Danish Championship, has got the highest number of points based on cumulative votes of the international Jury members and Handball-Planet.com visitors, the third year in a row!
The highest level of performances of the 22 years-old Sagosen, put him ahead in the tight race for the prestigious award ahead of Swedish left wing Jerry Tollbring (30 points) and Slovenian right wing-back Blaz Janc (30), but also French right back Nedim Remili (28).
In two weeks of voting period 17.913 votes for 28 nominated players have shown the outstanding interest for our project, who has the goal to present the future stars of our sport.

COMPLETE RESULTS – BEST 7
The first winner of Handball-Planet.com Contest was Alex Dujshebaev in 2014.
Handball-Planet team want to thank all media, teams, TOP players, coaches and handball fans worlwide for making our project so big this year!
Members of the Jury:

Rasmus Boysen (Denmark, hballtransfers.com)
Nicolas Chardon (Handnews.fr TEAM (France)
Lojze Grčman (SIOL, Slovenia)
Stig Nygard (TV 2, Norway)
Sergei Novikov (PRESSBALL, Belarus)
Sergey Prigolovkin (Rushandball.ru, Russia)
Zoran Misevski (gol.mk, Macedonia)
Bjorn Pazen (Handball Woche, Germany)
Jorge Dargel Amigo (Marca, Spain)
Sreten Raskovic (TV Arena Sport, Balkan)
Courtney Grahan (IHF, Australia)
Magda Pluszewska (EHF, Poland)
Konstantinos Chatzidimitriou (handball.gr, Greece)
Jasmin Tajic (Oslobodjenje, BiH)
Zika Bogdanovic (Balkan-Handball.com, Serbia)
SPORTHERO – TITLE SPONSOR
This year the official name of the Contest will be SPORTHERO WORLD YOUNG HANDBALL PLAYER 2016/2017 as we joined our forces with ambitious Polish clothing company who offering very interesting goods for whole handball community.
TECHNICAL SUPPORT: