Hungarian giRls and Spanish boys rule the Beach Handball world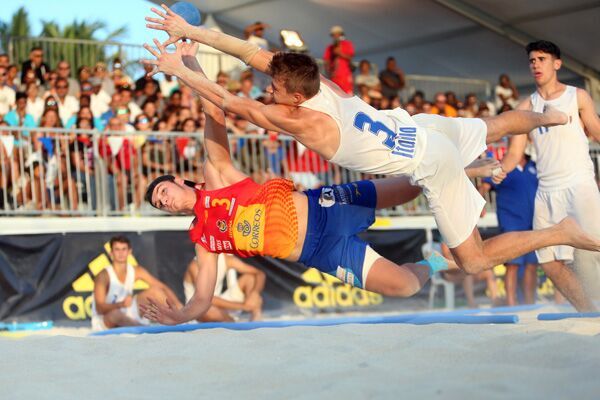 First U17 Beach Handball World Championship is over. Four exciting matches on the Central court kept attention of more then 2000 spectators for more than 4 hours. All medal matches were decided after "shoot-out". Argentinian girls and boys were better than their opponents from Portugal and Russia. Two medals are the excellent announcement for next big championship in this age category – Youth Olympic Games in Buenos Aires 2018.
Less happy then bronze medals winners, as it is usual, were losers with silver medals in their hands. That were teams of Nederlands in girls' and boys of Italy. Desired titles went in hands of Hungary and Spain.
In female competition, Hungary won in the thrilling match: HUN – NED 2:1 (22:23, 22:15, 6:5).
In the male final, it looked like that girl's finals will repeat with the victory of the team that lost the first period. Italy did it, but then reacted appropriate and won with authority second time and was so close to the trophy after first 3 attempts in "shoot-out". Anyway, it was time for "wake up" of the best GK of the Championship. Spanish golly Gillermo Garcia stoped two attempts of Italians and help his team won first ever U17 BH WCh.
The competition was finished and that was the sign for the beginning of party decorated by fantastic fireworks right close to the Indian ocean's water.
X.Q