IHF TROPHY 2017: Dr Congo and Benin are African winners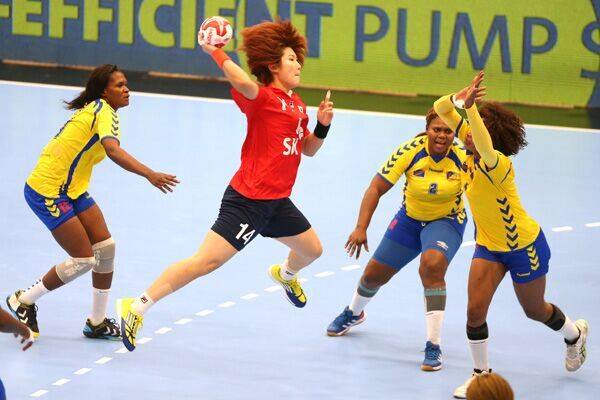 All five IHF continents – Africa, Asia, Europe, Pan-America and Oceania – now know their representatives for the final of the 2016/17 IHF Trophy Intercontinental Phase.
The winners of each of the five continental competitions for men born in 1996 or younger and women born in 1997 or younger were known earlier this month when both African and Oceania held their final continental competitions.
MEN'S COMPETITION
The men's final (Saturday 5 August) saw DR Congo beat Benin 33:28 (18:13) to claim their spot in the continental finals, while in the 3/4 Placement Match host side Senegal gave their home fans some nervy moments, but came from behind at half-time to be Mozambique 29:26 (11:12).
Leading up to the final, Senegal had beaten Rwanda (37:33) to confirm second place in their preliminary group and a semi-final spot. DR Congo beat Madagascar 30:21 to confirm top-spot in Group A.
DR Congo then went on to beat Mozambique 32:16 in the semi-finals to set-up a final appearance against Benin, who beat the hosts Senegal 28:26 in the other semi-final. Rwanda beat Ethiopia 40:34 in the 5/6 Placement Match.
FINAL RANKING
DR Congo

Benin

Senegal

Mozambique

Rwanda

Ethiopia

Madagascar
WOMEN'S COMPETITION
Benin restricted Guinea to just six first-half goals as they easily won the final 23:14 (12:6). In another clear match, Cameroon beat Madagascar 36:21 (18:10) to claim bronze in the 3/4 Placement Match.
Earlier in the week, Cameroon confirmed their qualification through to the semi-finals with a 19-goal win over Mozambique (38:19) while it was a top-of-the-table clash between Benin and Madagascar in Group A with Benin running out easy winners, 30:12, to take first place, the results saw both teams go through to the semi-finals.
In the semi-finals Benin beat Cameroon (23:21), and Guinea overcame Madagascar 39:20 with Uganda claiming fifth spot after winning their 5/6 Placement Match against Mozambique.
FINAL RANKING
Benin

Guinea

Cameroon

Madagascar

Uganda

Mozambique
Ethiopia
2016-17 IHF TROPHY CONTINENTAL WINNERS
Europe (EHF): Moldova (men) and Faroe Islands (women)
Pan America (PHF): USA (men) and Martinique (women)
Asia (AHF): India (men) and DPR Korea (women)
Africa (CAHB): DR Congo (men) and Benin (women)
Oceania (OCHF): Tahiti (men)
Source: IHF
PH: Stephane Pillaud/IHF