Men's EHF EURO 2020 Qual: Nine teams at 100% – Greece and Israel make biggest surprises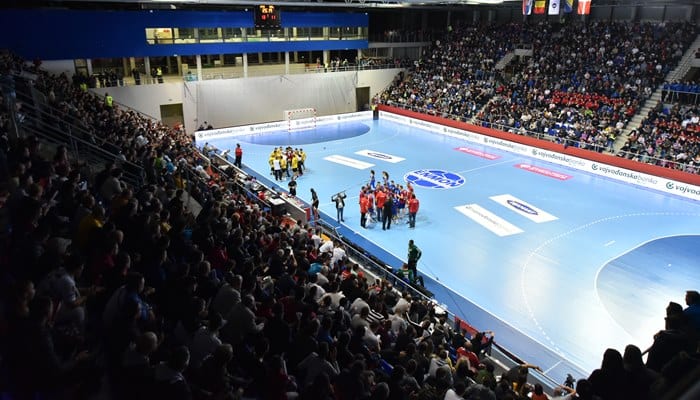 Nine teams are on 100% after two rounds of matches at EHF EURO 2020 qualifications.
The biggest surprises happened in Greece, but also Israel, where home team beat Poland 25:24.
Here are the results and standings.
Group 1
KOS -Germany 14-30 (5-15)
Israel-Poland 25-24 (12-12)
STANDINGS:
Germany 4
Poland 2
Israel 2
KOS 0
Group 2
Switzerland-Serbia 29-24 (12-11)
Belgium-Croatia 25-30 (12-18)
STANDINGS:
Croatia 4
Switzerland 2
Serbia 1
Belgium 1
Group 3
Turkey-Iceland 22-33 (13-16)
Greece-Macedonia 28-26 (12-13)
STANDINGS:
Iceland 4
Greece 2
Macedonia 2
Turkey 0
Group 4
Latvia-Netherlands 29-25 (17-11)
Estonia-Slovenia 20-31 (11-16)
STANDINGS:
Slovenia 4
Latvia 2
The Netherlands 2
Estonia 0
Group 6
Lithuania-Portugal 23-24 (10-12)
Romania-France 21-31 (9-12)
STANDINGS:
France 4
Portugal 4
Romania 0
Lithuania 0
Group 7
Italy – Hungary 22:30
Slovakia – Russia 21:22
STANDINGS:
Russia 4
Hungary 4
Slovakia 0
Italy 0
Group 8
Ukraine-Montenegro 29-24 (15-12)
Faroe Islands – Denmark 17:35
STANDINGS:
Denmark 4
Ukraine 2
Faroe Islands 1
Montenegro 1