More than 300 participants at UNIQA 2016 International Goalkeepers Camp in Split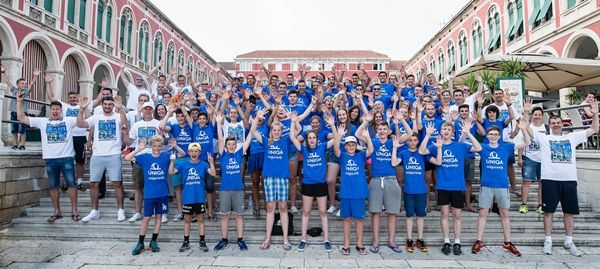 The sixth UNIQA International Handball Goalkeeper's Camp in Split, Croatia, was held between June 18 and 24 in beautiful atmosphere of Adriatic Coast. Like in the previous editions, the best place for handball goalkeepers was visited by more than 300 young goalies, coaches and other guests of the project from 32 countries in total.
Every day work with the famous coaching names in the world of handball, but also some of the TOP goalkeepers of the last decade, was combined with summer relaxing activities. The grand finale of the whole project was happening at famous Split's central street – Riva, near the sea, with a lot of social and sports activities:
We knew that moving to city of Split will gave us a great development on all fields. Camp's participants are more than satisfied with the city, but also everything what they had chance to learn during six days. We will try to give our best for them also next year and in years to come together with our sponsors 'UNIQA osiguranje', Grad Split, 'Splitska banka', 'Last minute – renta a car', 'Galeb Omiš', 'Coca Cola', 'Molten', 'Studenac', 'Sport vision', hotel 'Dioklecijan', 'Zlatan Otok', 'Ožujsko pivo', 'Galaxy travel' i clinic 'Korak', TZ Splitsko – dalmatinska Municipality, TZ Splita, Županija Splitsko – dalmatinska i PSK – says Camp's director Mario Caljkusic.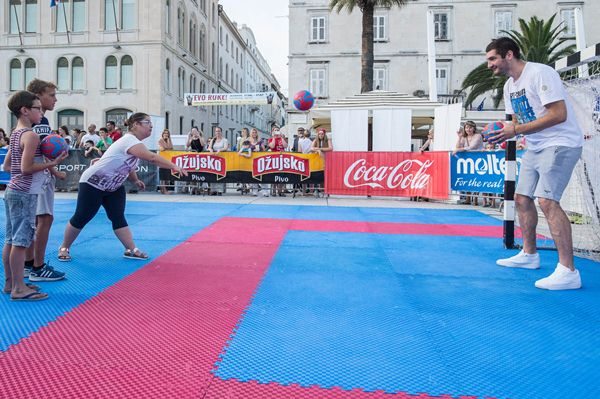 One of the biggest stars of sixth Camp (last five years was held in Makarska) was Mirko Alilovic, Croatian goalkeeper from TELEKOM Veszprem, who worked together with his team-mate Roland Mikler, but also team's coach Haris Porobic. 
I am happy to help in promotion of handball, especially when we are working with the kids. A week is not enough to get every kind of knowledge, but it is enough to meet your idols, to work with them and to get a new impulse for your career – said Alilović.
Coaching staff of the sixth UNIQA 2016 International Handball Goalkeepers' Camp was impressive starting with two EHF Champions League winners from Vive Tauron Kielce and CSM Bucharest – Marin Šego and Jelena Grubišić, but also Mirko Alilović,  Roland Mikler (Veszprem), Nebojša Grahovac, coaches Haris Porobić, Mirko Bašić, Vladimir Vujović, Vlatko Đonović, Nenad Rogulj, Tomasz Błaszkiewicz,Vanja Radić, Karina Andersen Aas, Dino Špiranec, Duje Poljak.
PHOTO BY Jouni Lappi / Kuvastamo