Slovenia ready for France (20.45), Blaz Janc: Why we couldn't win?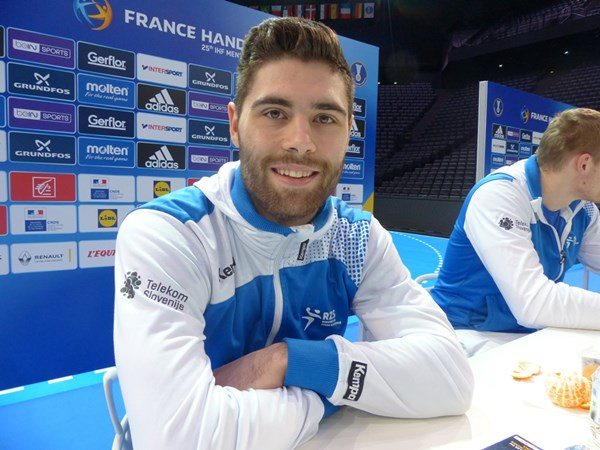 Slovenia are at the second semifinal in just four years. After Barcelona 2013, the country of just two million inhabitants showed fantastic handball skills in Metz and Paris to made another amazing success, but this time, they won't be satisfied with a winning fourth place at the end. Fantastic right wing, Blaz Janc, speaks for Handball-Planet.com about desire to win "one more match" in Paris Bercy. The first chance is tonight against France (20.45):
We are very happy to be here in semi-final, to play against the best team on the world. It will be fantastic atmosphere, I expect a good match and to try to make some surprise – said Janc and added:
We didn't celebrate our win against Qatar too noisy and too long. The best matches are coming. One more win will bring us to the three-medal podium. We don't live in euphoria, it's time to prepare game against France.
How to avoid "wooden medal", won in 2013 by some of the guys who are still in roster like Kavticnik, Bezjak, Mackovsek and Co.
Coach Vujovic made a good thing as he deployed time on the court 30 minutes by player. We aren't tired, but when you play for the medal, that isn't a question at all. We are focused on France, and let tell you something, why we could't win? We have chances.
http://www.handball-planet.com/nikola-karabatic-about-france-2017-it-could-be-a-highlight-of-my-career/
What could be a secret?
They are under pressure, they have to win. We are relaxed, but with the goal. Good defense and a lot of running. They are big and tough, so we will do whatever Vujovic wants from us.
Croatia VS Norway?
Croatian team going up after not so good Preliminary Round. They have player able to beat anyone. I will give advantage to them.
Final against neighbors?
Where I have to sign? – concluded Blaz Janc.