THW Kiel save third place against Fuchse Berlin in direct encounter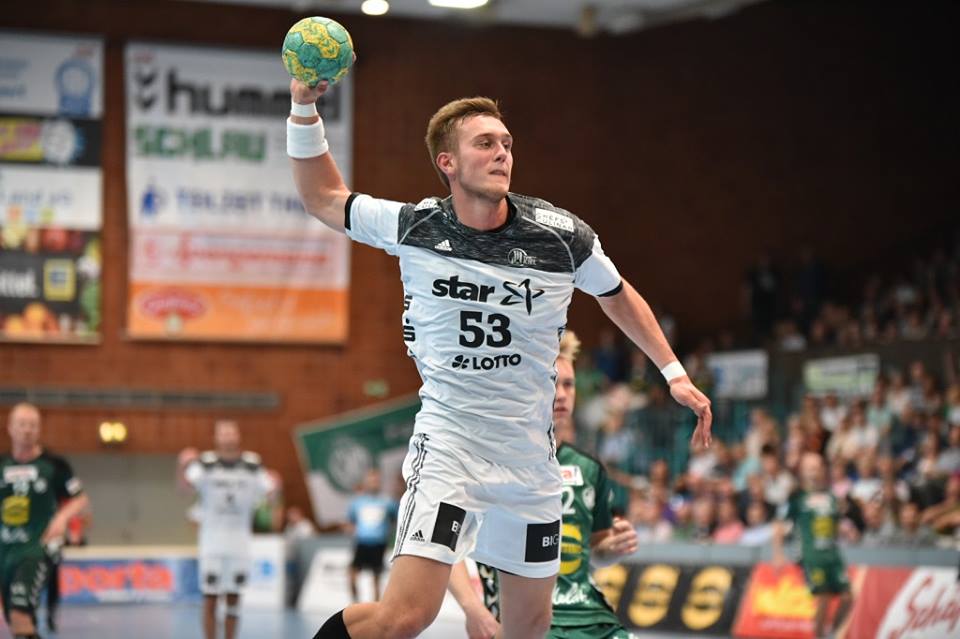 THW Kiel saved third place in DKB Bundesliga by beating Fuchse Berlin 32:28 (18:15) in direct encounter of Round 29. "Zebras" celebrated 23rd victory in current season which keep them in a race for the Championship, but only theoreticaly.
Nikola Bilyk netted seven goals, while on the other side, Hans Lindberg scored eight goals. Both goalkeepers, Wollf (18 saves) and Heinevetter (15) showed high-level performance.
THW Kiel: Landin (2/2 saves), Wolff (1.-60., 18 saves); Firnhaber (1), Weinhold (3), Dissinger (3), Wiencek (4), Ekberg (5/1), Dahmke (4), Brozovic, Vujin (4), Bilyk (7/2), Nilsson (1); Trainer: Gislason
Füchse Berlin: Heinevetter (1.-60., 15/2 saves), Stochl (n.e.); Wiede (1), Elisson (6), Zachrisson, Gojun, P. Nenadic (7), Tönnesen (2), Plaza, Lindberg (8/2), Fäth (1), Kozina (2), D. Nenadic, Drux; Trainer: Petkovic
STANDINGS:
| | | | | | | | | |
| --- | --- | --- | --- | --- | --- | --- | --- | --- |
| 1. | Flensburg-H. | 28 | 24 | 2 | 2 | 868:683 | 50 | |
| 2. | Rhein-Neckar | 27 | 24 | 1 | 2 | 809:670 | 49 | |
| 3. | Kiel | 29 | 23 | 1 | 5 | 833:717 | 47 | |
| 4. | Fuchse Berlin | 29 | 20 | 4 | 5 | 844:755 | 44 | |
| 5. | SC Magdeburg | 29 | 20 | 3 | 6 | 828:772 | 43 | |
| 6. | HSG Wetzlar | 29 | 18 | 0 | 11 | 762:732 | 36 | |
| 7. | MT Melsungen | 30 | 15 | 2 | 13 | 831:812 | 32 | |
| 8. | Leipzig | 29 | 14 | 2 | 13 | 746:738 | 30 | |
| 9. | Erlangen | 29 | 13 | 0 | 16 | 770:797 | 26 | |
| 10. | Hannover-Burgdorf | 29 | 11 | 1 | 17 | 811:816 | 23 | |
| 11. | Minden | 29 | 10 | 2 | 17 | 713:799 | 22 | |
| 12. | Goppingen | 30 | 10 | 1 | 19 | 819:856 | 21 | |
| 13. | Gummersbach | 29 | 9 | 1 | 19 | 735:796 | 19 | |
| 14. | TVB Stuttgart | 27 | 8 | 1 | 18 | 686:753 | 17 | |
| 15. | Bergischer | 28 | 8 | 1 | 19 | 709:791 | 17 | |
| 16. | HBW Balingen-Weilstetten | 29 | 7 | 3 | 19 | 696:780 | 17 | |
| 17. | Lemgo | 29 | 7 | 2 | 20 | 787:852 | 16 | |
| 18. | Coburg 2000 | 29 | 4 | 1 | 24 | 723:851 | 9 | |