Veszprem's powerful start – Pick Szeged beat Tatabanya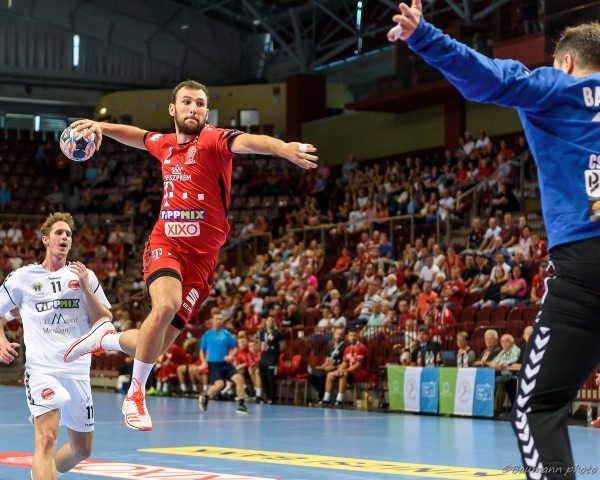 The best team of Hungary in the last 10 years in a row, Telekom Veszprem, made a powerful intro of the season by beating Csurgoi KK 31:15 (19:6) at the start of the new domestic season. Csurgoi KK are one of the strongest team behind Veszprem and PICK Szeged, so the number of goals describe in the best way "destiny" of all their rivals in the season ahead.
Telekom Veszprém – Csurgói KK 31:15 (19:6)
Telekom Veszprém: Mikler – Manaskov 8, Schuch, Ilic, Tonnesen 3, Nilsson 4, Nagy 1, Accambray 2, Marguc 2, Terzic, Blagotinsek 3, Sulic 2, Lékai 2, Győri 2, Ligetvári 2
Csurgói KK: Balogh, Bartucz – Vasic 6 (5), Megyeri, Varjú, Hanusz 1, Tóth, Ferreira, Cehte 1, Szeitl 2, Oslak 1, Radjenovic 2, Oliveira, Jerebie, Mikita 2, Géczi
In the first small derby of the season, PICK Szeged beat the third force of Hungarian handball – Tatabanya 28:25.
MOL-Pick Szeged – Grundfos Tatabánya KC 28-25 (13-13)
MOL-Pick Szeged: Sierra – Pedro 1, Gaber, T. Petrus 1, Blazevic, Källman 5, Skube 2/1, Balogh 4, Bodó 1, Bánhidi, Sigurmannsson 7/7, Buntic 1, Zsitnyikov, Gorbok 6, Fekete B.
Tatabánya: Székely – Pásztor Á., Vrankovic 6, Juhász Á. 5, Vranjes 3, Bozovic 1, Vujovics 2, Iancu, Ilyés 1, Sipos, Grigoras 4, Szöllősi Sz., Harsányi 3/2,
PHOTO: Veszprem Handball