Wiede "steals" point for Fuchse in Kassel?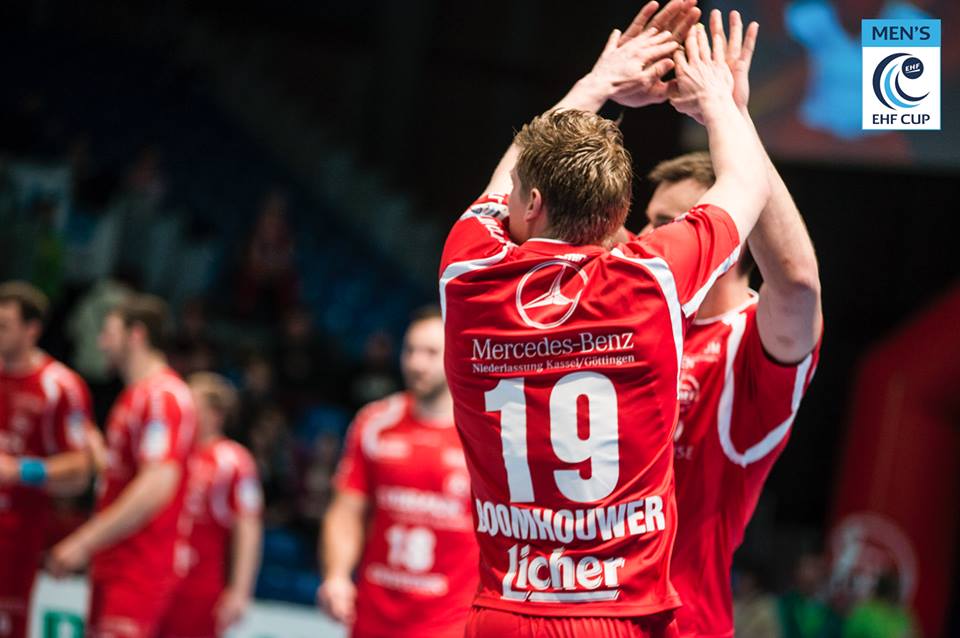 MT Melsungen and Fuchse Berlin ended their clash with 28:28 with controversal last few seconds afterwards question about red card for Berlin's right back Fabian Wiede who caught the ball on the bench became open. In that case, refferes could sent him off and give 7-meter chance to home team.
MT Melsungen: Sjöstrand (16 saves), Villadsen, Verkic (n. e.); Sellin 5/2, Golla 5, Fahlgren, Danner 1, P. Müller 1, Boomhouwer 2, Rnic 4, Schneider 3, Allendorf, Vuckovic, Jaanimaa, M. Müller 7, Haenen.
Füchse Berlin: Heinevetter (15 saves), Stochl (n. e.); Wiede 5, Elisson 5, Struck, Göjun, P. Nenadic 1, Tönnesen 2, Plaza 3/1, Lindberg 7/4, Fäth, Kozina 2, D. Nenadic 2, Drux 1.
THW Kiel stayed only with point against GWD Minden 23:23 at home. DKB Bundesliga title is again far away since SG Flensburg beat Bergischer 32:25.
GWD: Christoffer Rambo (6), Aleksandar Svitlica (6/2), Magnus Gullerud (4), Marian Michalczik (3), Sören Südmeier (2), Charlie Sjöstrand (1), Florian Freitag (1), Kim Sonne Hansen (25 saves)
THW Kiel : Rune Dahmke (5), Marko Vujin (5/1), Niclas Ekberg (4), Steffen Weinhold (4), Patrick Wiencek (3), Nikola Bylik (1), Lukas Nilsson (1).
STANDINGS:
| | | | | | | | | |
| --- | --- | --- | --- | --- | --- | --- | --- | --- |
| 1. | Flensburg-H. | 26 | 22 | 2 | 2 | 808:632 | 46 | |
| 2. | Rhein-Neckar | 25 | 22 | 1 | 2 | 739:624 | 45 | |
| 3. | Kiel | 27 | 21 | 1 | 5 | 770:662 | 43 | |
| 4. | Fuchse Berlin | 27 | 19 | 4 | 4 | 782:696 | 42 | |
| 5. | SC Magdeburg | 27 | 18 | 3 | 6 | 764:724 | 39 | |
| 6. | Leipzig | 26 | 14 | 2 | 10 | 676:656 | 30 | |
| 7. | HSG Wetzlar | 26 | 15 | 0 | 11 | 681:663 | 30 | |
| 8. | MT Melsungen | 27 | 12 | 2 | 13 | 739:731 | 26 | |
| 9. | Erlangen | 26 | 12 | 0 | 14 | 683:700 | 24 | |
| 10. | Hannover-Burgdorf | 26 | 11 | 0 | 15 | 734:728 | 22 | |
| 11. | Minden | 27 | 10 | 2 | 15 | 666:743 | 22 | |
| 12. | Goppingen | 26 | 10 | 1 | 15 | 718:736 | 21 | |
| 13. | Lemgo | 26 | 7 | 1 | 18 | 708:761 | 15 | |
| 14. | Gummersbach | 26 | 7 | 1 | 18 | 656:721 | 15 | |
| 15. | Bergischer | 27 | 7 | 1 | 19 | 686:769 | 15 | |
| 16. | TVB Stuttgart | 25 | 7 | 0 | 18 | 639:708 | 14 | |
| 17. | HBW Balingen-Weilstetten | 26 | 6 | 2 | 18 | 619:707 | 14 | |
| 18. | Coburg 2000 | 26 | 4 | 1 | 21 | 653:760 | 9 | |