Youth WCh 2016 golden team: Russian revenge on Denmark in Bratislava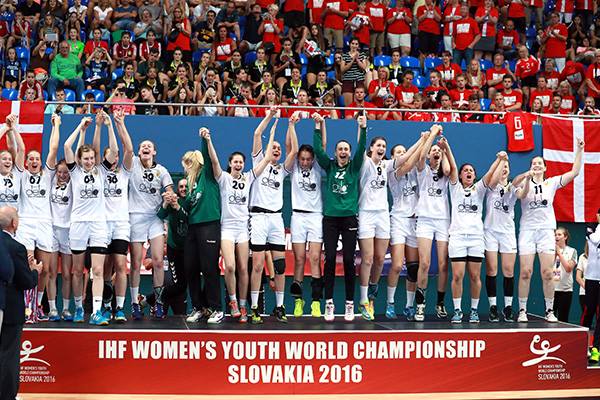 Russian girls won the gold medal at Women's Youth World Championship 2016 in Slovakia. Russia beat Denmark 30:22 (15;13) to secure the second youth world's title only two weeks after Danish junior team beat Russia at the final of Junior WCh 2016 in Moscow.
The bronze medal won Korea over Norway 32:30.
ALL STAR TEAM 2016:
Goalkeeper: Laerke Sofie SORENSEN (DEN)
Left wing: Emma Cecilie Uhrskov FRIIS (DEN)
Left back: Jinmi SONG (KOR)
Centre back: Ayeong GIM (KOR)
Right back: Antonina SKOROBOGATCHENKO (RUS)
Right wing: Mariia DUDINA (RUS)
Line player: Ida Marie Moesgaard DAHL (DEN)
Best defender: Guro NESTAKER (NOR)
Top scorer: Bernadett HORNYAK (HUN) – 67 goals
Most Valuable Player: Karina SABIROVA (RUS)
PHOTO: IHF