Jonas Erik Larholm for HP: "I enjoy in Szeged"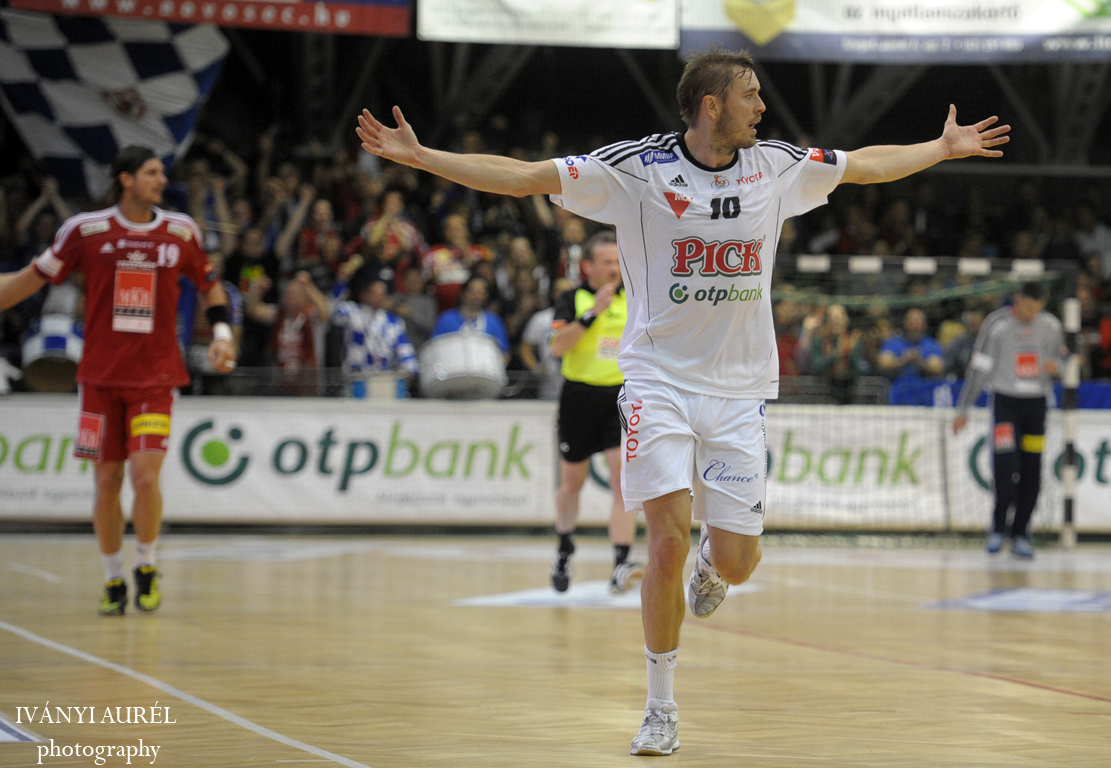 We talked to Jonas Erik Larholm, the first Scandinavian player of Pick Szeged about many things. How he's recovering from his injury, how is he doing in Szeged, about the Olympic games, about the Women's European and Men's World Championship and much more… check it out!
How is your leg doing? Are you getting better or it still hurts?
It still hurts, I was in the fitness center. It is not broken, only a bit swollen. I would have wanted maybe 2 or 3 weeks more rest. There's 3 weeks before I can put some pressure on it and run, I just walk around now and rest.
You've been living in Szeged for almost 6 months now. What do you think about Hungarian people, culture and in general how do you feel in Hungary?
How would you describe the major differences between Sweden and Hungary?
Maybe some things are a little bit different but it's still handball and it is the same sport, I think we have good conditions here in the sportshall. I enjoy it. I am also on good terms with my team and with my teammates.
What do you do in your spare time? Do you have local friends from Szeged? Do you have any preferred bar or restaurant which you attend more often than the others?
We have some free time but in some periods there's too much traveling, playing and everything. I like the city, I live in the center. Mainly I go out with my teammates. There is one cafe place in the city center that we like.
The opponents usually notice the good atmosphere of the Szeged hall and also how much the fans cheer for their team. In your previous teams was it similar or this is a little bit different?
I spent 2 years in Barcelona and it was not the same. The fans came only for the big games and then there was a good atmosphere. In Aalborg there were many spectators but it's different here (in Szeged) as fans are more louder and cheering more emotionally and the atmosphere gets better and better.
Do these things inspire you and your play as well?
Yes of course, it helps a lot. There are many people in the sportshall and they also make some loud noise. In Denmark and in Sweden it is more common to sit with the family and it is nice and quiet, but here in Szeged it is different. I like this.
How do you feel about the match against Veszprem? That was a big win.
It was really great for the sport and it was a really good match. I was very satisfied with it.
What do you think about the Hungarian League? How could you describe the differences of this league comparing to the Swedish or to the Spanish?
I think the difference is bigger between the good teams and the weaker teams here. In Denmark it is more even and also in Spain but in Spain is a little bit more like here in Hungary.The level of the Swedish teams maybe the same comparing to the Hungarian teams, but it is hard to say. We have 2-3 really good teams here.
What about the young players? How many talented young players can play in this leage or in Spain or in Sweden?
In Sweden there are a lot of young players, but most of the young players if they have a succes maybe they could play in the natioal team also they try to go abroad because the financial situation is often better in Denmark or in Germany.
I think it's a good league for young people. We can develop them, many players go but we should keep them in Sweden. I think maybe it's the same for the Hungarian league.
You want your star players to stay. You may have more succes with this here because you have big teams in Szeged and Veszprém and people want to stay because they are more competitive in the Champions League. They also have a bigger chance to get a good place and to stay here in Hungary. This we have to work on in Sweden.
What final result do you expect from Pick Szeged? The draw against Tatabánya made it harder to win the preliminary round. If Szeged and their great rival play in the final again, what do you think about your team's chances against Veszprém, who have a great chance of getting into the Champions Leage final four. 
We saw we had a good chance to beat them here at home, we played a good game, we can compete with them, but of course this goal – to get ahead of them – may be harder, we have a lot of work to do and we try to improve and then I think we can match up to them and I think we have a chance.
In the history of Pick Szeged you are the first Scandinavian player. The CEO Richárd Mezei said, that they would like to get more players from the nordic countries to come to Szeged. Do you think its possible? Could you mention some names whom you would like to play with?
I think people from Scandinavia are very friendly and more positive to the idea of moving to Hungary.  Some people also from Spain came to Hungary and I think its more mixed in Europe now and everybody can play everywhere and I think this trend will go on…
Maybe from the Swedish national team?
I don't know, maybe.. I will try to get them here!
In the Bundesliga there are a lot of Scandinavian players, the German top clubs like to have players from the nordic countries. You haven't played in Germany, went to Denmark after Barcelona. You didn't intend to play there or the Danish offer was unrefusable?
It was a good offer and a good opportunity for me to play with some of the players from our youth national team, that I know well. We had a good team there. It was a good   step for me that time and in that point of my carrier. I think it was also great socially in the first 2-3 years. After that I wanted to try something new, something different.
If you go back in time, would you make the same decision?
I don't know, that time it was good for me, now I also feel good here and I try to focus on this situation and to improve myself here and then I'll see where I'm going next, but I hope I can stay here for a long time.
After the first period of struggle in the Champions Leage you were getting better and after the victory against Zagreb we've got a real chance to qualify for the next round. Do you think you could make the last 3 rounds? Maybe 4 points would be enough.
We still have it in our hands, I think we can make it, but we have to improve, like we did during this period then I think we'll have a chance. It will be tough because we have to beat Schaffhausen away and also Minsk here at home. I think many of these teams in this group caused a real surprise in a positive way. Also Zagreb are playing really good but they haven't been lucky with their points, they were close to winning in Berlin. This group is very tight but if we work hard and if we do our best then we can do it.
What is your opinion regarding Balic who missed the World Championship?
I haven't seen him during this autumn only maybe in 1 or 2 games when he played in Atletico, it's hard to say what happened there, I don't know I don't want to speculate maybe it's his relationship with Goluza. I enjoy watching him so I would be a little bit sad not see him in the Championship.
In the European Champ. in Serbia in January he played for a very little time.
Yes he also didn't play much at the Olympics. He played well I think in the semi final against France but this was also the only chance he got to play, he played 70%. I don't know why, I would say maybe he may come back or maybe he had enough.
In the last few years some serious changes have happened in european handball. Some really good teams got weaker and some teams got unexpectedly stronger (Polish teams, Metalurg Skopje and Veszprém too). The CL got more balanced, as some unexpected results show. What do you think about this?
I agree, I think it's got more balanced as you say. I think it is good for handball, for the sport and also for the interest of the spectators. You can never say for sure that one team is going to win a game. Savehof can beat Atletico or Minsk are now playing really good for example. Its good for the spectators also and for the clubs. Everyone feels in the CL that  "we have a chance, we can go trough maybe to the next round and build on that". Why not? I like this development.
Have you watched the Eurpoean women's handball championship?
Yes, I saw some of the matches and in the final Montenegro won in two overtimes.
In 2010 the Norwegian national team beat Hungary with 21 goals in the European Championship. On Saturday the two teams played again in the semi final and Norway won by 11 goals. The norwegian coach of the Hungarian national team Karl Erik Böhn said, that they got better by ten goals comparing to the last match. We could say, it is an interesting explanation. Do you think that this kind of "positive thinking" is part of the scandinavian mentality or he just simply wanted to cheer his team up a bit before the upcoming very important match against Serbia. (Finally the Hungarian team beat Serbia and reached the bronz medal.)
Maybe because of this. It's hard to say when you have only one example, but maybe in general it is like this. We have a different mentality.He might just tried not to be hard on his team and instead he was a little bit more constructive. I don't know which is the best way because sometimes it's also good to put elite sportsmen under really big pressure and then they perform good. Maybe a mixture of this.
Is this better for the players?
I don't know. I think sometimes the swedish or the scandinavian style is very individual from player to player and from team to team For example some player just need to hear 'Come on', 'Harder', 'Tougher' and to be put under a lot of pressure and some players work better without this. So you have to know your team and know your player and your couch and try to find the best approach.
The World Championship in Spain 2013 is approaching and Sweden are not there after losing in the European playoffs against Montenegro. Andersson, Kallman, Ahlm and Lundström decided they need a rest before the Olympics and did not play these two legs against Montenegro. Bengt Johansson said he would have forbidden these players not to play. Do you find these players responsible for Sweden not reaching the WC in Spain 2013?
Bengt Johansson said that? Of course this is disappointing for us not to be at the WC. We played well at the Olympics and I think it was a good comeback, a good revenge but now we just have to work for the next championship in Denmark.
It was harder for your team without these players.
Yes but Marcus did hasn't played in the national team for 7-8 years, he was not a suprise for us. Kim needed some time with his family, I think we just have to play with the team we got, with players who are able to be there and to contribute. Of course we would like as many players as possible every time we meet, but it's hard sometimes. The players are under a lot of pressure as the game schedules and programs in the clubs are tight so I understand some people need to rest sometimes.
Yes it was in June just right after the end of the season.
Yes we had a tough summer, I was participating in the national team all summer and also I think from start of June till after the end of the Olympics in August, so it was a tough but exciting journey this summer. I almost did not get any rest and then directly down here and to play. I can feel it now, I have some small injuries. I think it is because I've put hard pressure on my body for a long time. It would be good now to have a two-week restI for my feet and these small injuries.
Only two weeks? Yes, in the summer you normally have maybe 3 week, but this summer I had only 3 days so of course it's hard.
What do you thik about the Olympic games? You reached the final you had two fantastic matches against Denmark and Hungary and you lost by only one goal against France. Do you think it was a big success for you or more like a failure and disappointment for losing the final?
We were very happy to reach the final and have a silver medal but I was a bit disappointed and a little bit sad after the final. Because winning was so close… I think we played good and we had the chance. It was disappointing but of course now I'm also very happy with a silver medal.
Interview: Gábor Várkonyi, Péter Butty
Photo: Aurél Iványi