"Lions" storm over GETEC Arena in Magdeburg!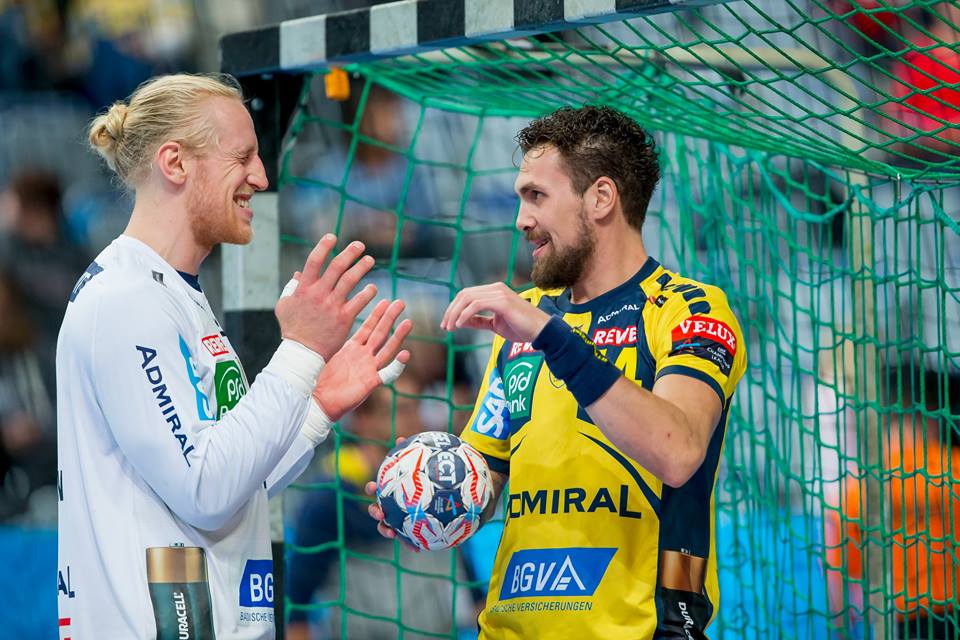 Rhein Neckar Lowen are even bigger favorites to make a hat-trick at DKB Bundesliga after important away win in one of the hottest places in Germany – GETEC Arena in Magdeburg! The German champions beat "Gladiators" 32:29 (15:11) and stayed at the top of the league table alongside Fuchse Berlin, who made important step forward in Goppingen 38:32.
Andy Schmid and Gudjon Valur Sigurdsson were the TOP scorers in the winning squad with seven goals each.
Results of Round 11:
Frisch Auf Göppingen – Füchse Berlin 32:38 (13:18)
Frisch Auf Göppingen: Schiller 6/5, Bagersted 5, Ritterbach 5, Rentschler 4, Kneule 3, Kozina 3, Sesum 3, Fontaine 2, Schöngarth 1
Füchse Berlin: Elisson 7, Fäth 7, Drux 6, P. Nenadic 5, Lindberg 4/2, Wiede 4, E. Schmidt 3, Heinevetter 1, Kopljar 1
SC Magdeburg – Rhein-Neckar Löwen 29:32 (11:15)
SC Magdeburg: Damgaard 8, Bezjak 3, Zelenovic 3, Musa 2, Chrapkowski 2, Pettersson 2, Christiansen 2, Weber 2/2, Kalarash 2, Musche 1, Mertens 1
Rhein-Neckar Löwen: Schmid 7/2, Sigurdsson 7, Groetzki 5, Baena 4, Mensah Larsen 4, Pekeler 4, Petersson 1
THW Kiel – Die Eulen Ludwigshafen 28:21 (13:12)
THW Kiel: Ekberg 8/3, Bilyk 4, Dahmke 4, Frend Öfors 2, Rahmel 2, Vujin 2, Weinhold 2, Dissinger 1, Nilsson 1, Wiencek 1, Wolff 1
Die Eulen Ludwigshafen: D. Schmidt 6, Feld 3/2, Haider 3, Falk 2, Scholz 2, Pa. Weber 2, Dietrich 1, Dippe 1, Durak 1
HSG Wetzlar – HC Erlangen 26:23 (12:8)
HSG Wetzlar: A. Hermann 6, Kohlbacher 6, Björnsen 5, Kvist 3, Pöter 2, Cavor 1, Ferraz 1, Holst 1/1, Lindskog 1
HC Erlangen: N. Link 4, Schröder 4, Thümmler 4, Büdel 3, Sellin 3, Steinert 3, Stranovsky 2/1 Schiedsrichter: Nils Blümel (Berlin)/Jörg Loppaschewski (Berlin)
GWD Minden – VfL Gummersbach 29:24 (13:12)
GWD Minden: Michalczik 6/2, Svitlica 6, Rambo 5, Cederholm 4, Südmeier 3, Bilbija 1, Doder 1, Gullerud 1, Pusica 1, Zvizej 1
VfL Gummersbach: Köpp 5, Sommer 5, Erwin Feuchtmann Perez 3, Matic 3, Preuss 2, Schröter 2, A. Becker 1, Jaeger 1/1, Pujol 1, Zhukuv 1
STANDINGS:
| | | | | | | | | |
| --- | --- | --- | --- | --- | --- | --- | --- | --- |
| 1. | Fuchse Berlin | 11 | 9 | 1 | 1 | 336:299 | 19 | |
| 2. | Rhein-Neckar | 10 | 9 | 0 | 1 | 309:251 | 18 | |
| 3. | Flensburg-H. | 10 | 7 | 1 | 2 | 291:247 | 15 | |
| 4. | MT Melsungen | 10 | 7 | 1 | 2 | 272:261 | 15 | |
| 5. | SC Magdeburg | 12 | 7 | 0 | 5 | 374:340 | 14 | |
| 6. | Hannover-Burgdorf | 10 | 7 | 0 | 3 | 283:273 | 14 | |
| 7. | Kiel | 11 | 6 | 1 | 4 | 312:288 | 13 | |
| 8. | Leipzig | 11 | 6 | 1 | 4 | 304:298 | 13 | |
| 9. | Lemgo | 10 | 5 | 2 | 3 | 273:273 | 12 | |
| 10. | HSG Wetzlar | 11 | 4 | 2 | 5 | 286:274 | 10 | |
| 11. | Minden | 11 | 3 | 4 | 4 | 280:292 | 10 | |
| 12. | Goppingen | 10 | 2 | 4 | 4 | 272:276 | 8 | |
| 13. | Stuttgart | 10 | 3 | 1 | 6 | 243:266 | 7 | |
| 14. | Ludwigshafen | 11 | 2 | 2 | 7 | 270:294 | 6 | |
| 15. | Huttenberg | 10 | 1 | 3 | 6 | 262:283 | 5 | |
| 16. | Erlangen | 11 | 2 | 1 | 8 | 260:314 | 5 | |
| 17. | Gummersbach | 11 | 2 | 0 | 9 | 279:315 | 4 | |
| 18. | N-Lubbecke | 10 | 0 | 2 | 8 | 215:277 | 2 | |