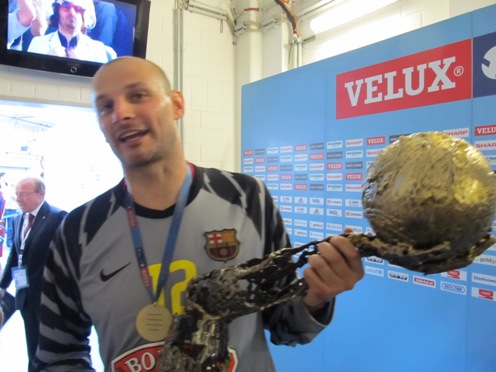 BM Atletico Madrid wins in an away match in "Blaugrana" against F.C Barcelona 30:29 (18:13), but team of Talant Dujshebaev will probably stay without Championship title in Spain, because just one goal (first match won Barca 29:27). Championship's battle was decided 9 seconds before the end, when Raul Entrerrios scored last goal on the match. After time-out, Atletico doesn't find a way to beat brilliant Danijel Saric between the posts (19 saves).
Atletico had +5 at the half-time, Barca made 6:0 series at the beginning of the second half and match went undecided until the last minute.
Now, Barca has to win last two matches in ASOBAL to become a new-old Spanish champion.
29 – FC Barcelona Intersport: Saric, Noddesbo (4), Tomàs (1), Sarmiento (7), Nagy (1), Rutenka (6, 2p), Morros (-) -siete inicial-, Juanín (3), Entrerríos (2), Sorhaindo (1), Jernemyr, Rocas (1), Igropulo (3).
30 – BM Atlético de Madrid: Sterbik, Kallman (4), Markussen (1), Aguinagalde (3), Abalo (7), Cañellas (6, 2p), Lazarov (4) -siete inicial-, Hombrados (p.s.), Eduard Fernández (-), Guardiola (1), Davis (1), José María Rodríguez (1), Entrerríos (2), Dinart.