AUFWIEDERSEHEN: "Lions" lose in Skopje after 13 wins!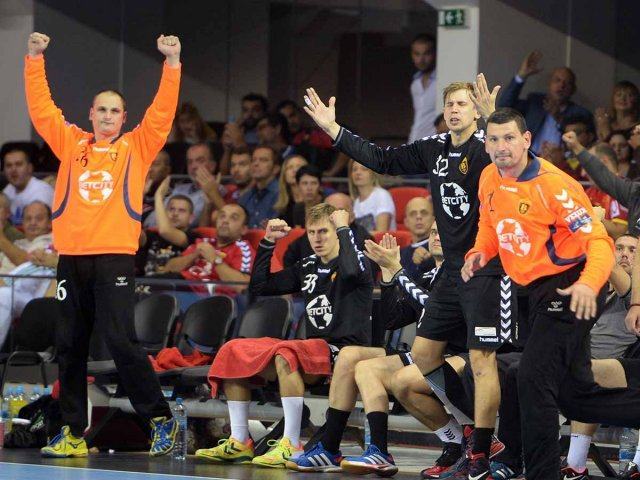 German Rhein Neckar Lowen ended winning series in Skopje. The third time in a row, "Lions" were only "Cats" against RK Vardar Skopje 25:19 (11:10). Over 5.000 fans in Skopje brought their idols to the fourth win at the VELUX EHF Champions League this season which making from Vardar the only team still on 100% in Europe.
Dujshebaev with seven and Dibirov with goal less where dominant person in the winning team, while Mensah Larsen netted eight for the Germans.
STANDINGS:
| | | | | | | | | | |
| --- | --- | --- | --- | --- | --- | --- | --- | --- | --- |
| 1. HC Vardar | 4 | 4 | 0 | 0 | 87 | : | 73 | (14) | 6 |
| 2. KS Vive Tauron Kielce | 4 | 2 | 1 | 1 | 127 | : | 113 | (14) | 5 |
| 2. Rhein-Neckar Löwen | 3 | 2 | 1 | 0 | 84 | : | 71 | (13) | 5 |
| 4. FC Barcelona Lassa | 3 | 2 | 0 | 1 | 85 | : | 82 | (3) | 4 |
| 5. MOL-Pick Szeged | 3 | 1 | 0 | 2 | 82 | : | 87 | (-5) | 2 |
| 5. IFK Kristianstad | 4 | 1 | 0 | 3 | 117 | : | 125 | (-8) | 2 |
| 5. Montpellier HB | 3 | 1 | 0 | 2 | 78 | : | 85 | (-7) | 2 |
| 8. KIF Kolding Kobenhavn | 3 | 0 | 0 | 3 | 69 | : | 93 | (-24) | 0 |