Transfers
Bezjak, Damgaard and Kristjansson to stay at SC Magdeburg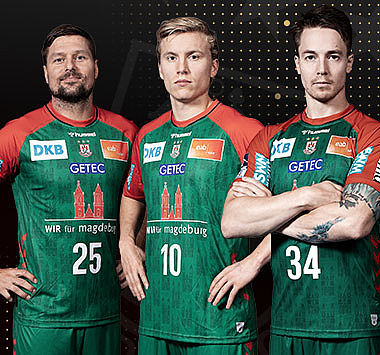 Triple joy at SC Magdeburg: With Marko Bezjak, Michael Damgaard and Gisli Kristjansson, three important pillars of the green-red backcourt have extended their contracts prematurely.
When Marko Bezjak moved from Gorenje Velenje to SC Magdeburg as the Slovenian champion in 2013, he probably had no idea that this adventure would turn into ten years and over 250 Bundesliga games. Because this week "Bezo" extended its contract, which expired at the end of the season, by a further year until 2023. "It's no secret that Magdeburg has become a second home. I feel very comfortable here and am still very motivated to continue to play handball at such a high level," said the happy 35-year-old playmaker.
Two years after "Bezo", Michael Damgaard from the Danish club Holstebro joined SCM. The Danish backcourt shooter with the right sticker found his way around immediately and scored 155 Bundesliga goals for Magdeburg in its first season. In the meantime, this has resulted in an outstanding 973 goals in 205 Bundesliga games. Last week, "Mika" extended his expiring contract by two years until 2024 and will be able to expand his goals account further: "In Magdeburg it just suits me. The club, the team, the environment – I'm very happy with them SCM and I'm looking forward to two more years here, "said the 31-year-old Olympic champion.
The 22-year-old Icelander Gisli Kristjansson makes the trio of extensions perfect . Coming from THW Kiel to Magdeburg in 2020, he extended his contract prematurely by two years until 2025: "The SCM was an important step for my development and I am far from finished here. This team has something special. We are ready for a new story to write and I want to be part of it. I'm really looking forward to the years to come in Magdeburg. "
Like his three players, head coach Bennet Wiegert is happy about the contract extensions of his protégés: "It is really not every day that we were able to extend three players during this difficult time. All three are immensely important for our game and I am very happy about that that they will remain with the SCM. That is a strong sign! ", said Wiegert.