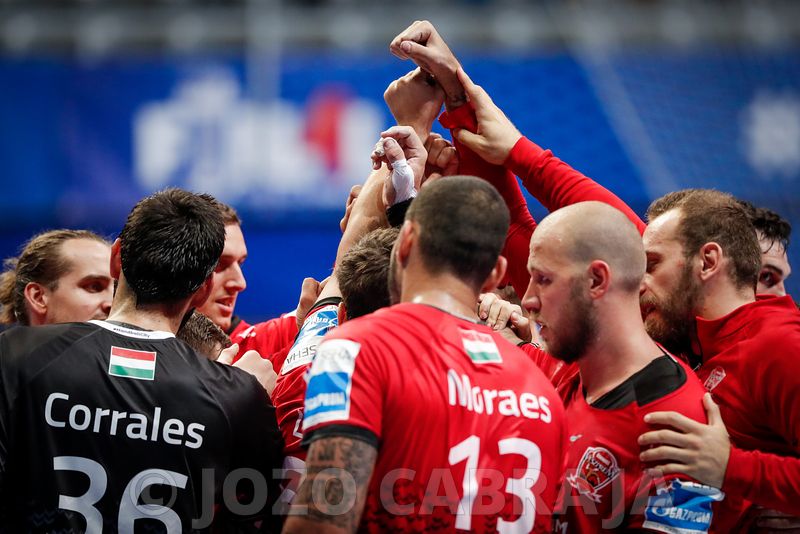 Telekom Veszprem again missed the chance to qualify for the EHF Champions League Final4 in Cologne. The team led by David Davis didn't achieve the ultimate goal of all goals the third season in a row. After the first one in which Davis overtook the coaching position from Ljubomir Vranjes in the first part (October 2018), fans could be satisfied with the progression of the team even EHF CL Final was lost easily against outsiders at that moment, a team who had a lot of financial and personal problems, RK Vardar Skopje.
In the second, Veszprem again qualified for Cologne, but this time by EHF decision (to take four best from Preliminary Round) due pandemic reasons. Team wasn't on the highest level in December's show at Lanxess Arena. They lost the semi-final against THW Kiel to once again put the question "Whether Veszprem will lift that trophy ever?".
Only five months later, the best team in Hungary made the same outcome, this time, even before, against HBC Nantes at quarter-finals. And for the first time since 2018, when handball fans witnessed "the French Final4" with Montpellier as a winner, "Red Army" won't watch their players at Lanxess Arena.
Why?
Of course, in professional sport, coach is always first on the list. And it will be extremely difficult to imagine that management of Veszprem, through history always ready to cut off the head, would not use the chance to save themselves with such an action.
David Davis didn't move this Veszprem forward since the pandemic began a year ago. Tactical solutions, team energy and a number of players in the form for crucial matches, wasn't on necessary level. For such a long time, the team's play was in hands of Petar Nenadic imaginations.
If Petar is in the mood like in 2019 semi-final against Kielce, Veszprem play. If not, Veszprem is in huge problem. Series of injuries prevented Rasmus Lauge from giving what he showed in an era with Flensburg (but that is the life, his Kiel's experience was on the same line), Mate Lekai is always somewhere near, but without full continuity to give the club the best in crucial moments. This was the momentum against Nantes also, in both matches. Tired Petar lost his head and couldn't make more in the finish of the second match. And support in the back-line was under the level. There is no "second solution" in play of Veszprem. Only Petar's crazy feints and 2 on 2 play with line players. Not enough against THE TEAM from Nantes, who had a lot of different options…
It could be easily said that Veszprem would be different with 100% ready Rasmus Lauge, but that's the life…
Davis and Veszprem's management have to give a response to a question – How is possible that the best back-line player of the club is Yahia Omar, the 23-years old Egyptian who came to be active support of a team full of world's stars like Tonnesen, Borozan or Markussen?
Borozan and Markussen, with their playing styles and psychical capabilities, are the players of the "ex-handball era". Too slow, to heavy, already read, without explosive energy and speed of "new boys" like Prandi, Calvacanti who are now taking seats in European handball. Wasted money? They aren't the only one in club's history. The list is quite long through the years…
NEXT MODEL, PLEASE?
In the last two decades, Veszprem was following all the "models" who were modern in world of handball. The first was with Zdravko Zovko in early 2000's, who mixed Balkan and Cuban blood lead by young Sterbik for the first-ever final in 2002. It was enough for two semifinals until 2007 in era of iron ASOBAL guys and hungry THW Kiel.
Then, they tried a domestic model with Lajos Mocsai who should also put NT on another level. It was far from competitive for the European level.
The Spanish model with Antonio Carlos Ortega and Xavi Sabate without national limits with Chema Rodriguez, Momir Ilic, and Laszlo Nagy as front leaders was the closest to heaven. Stupid change of coach in the middle of the season 2015/2016, when "club's father Csaba" support Renato Sulic in collision with Ortega, somehow showed that Veszprem doesn't deserve to win it. The traumatic experience of 2016 Final is still tough to explain. Team was in great moment, but Kielce made epic turnover in the last 15 minutes.
"To bring the winner" strategy with Ljubomir Vranjes wasn't successful. Ljubo's left with "Auf Wiedersehen" shouting after year and 2 months, somehow not on the line with media, fans, and the team. With him, Veszprem should get more Scandi look with guys like Lauge, Tonnesen, etc.
What is next? Or Davis will get another chance that is not a part of the club's culture? Or club's structures will need some changes? What do they think? Whether they will be able to defend No.1 on the national level in the upcoming years when Szeged get a new-arena with 8.000 seats and better infrastructure?
A lot of questions…
Mandatory Credit © Uros Hocevar / kolektiff