BUNDESLIGA: RNL, Bergischer and Flensburg 3 of 3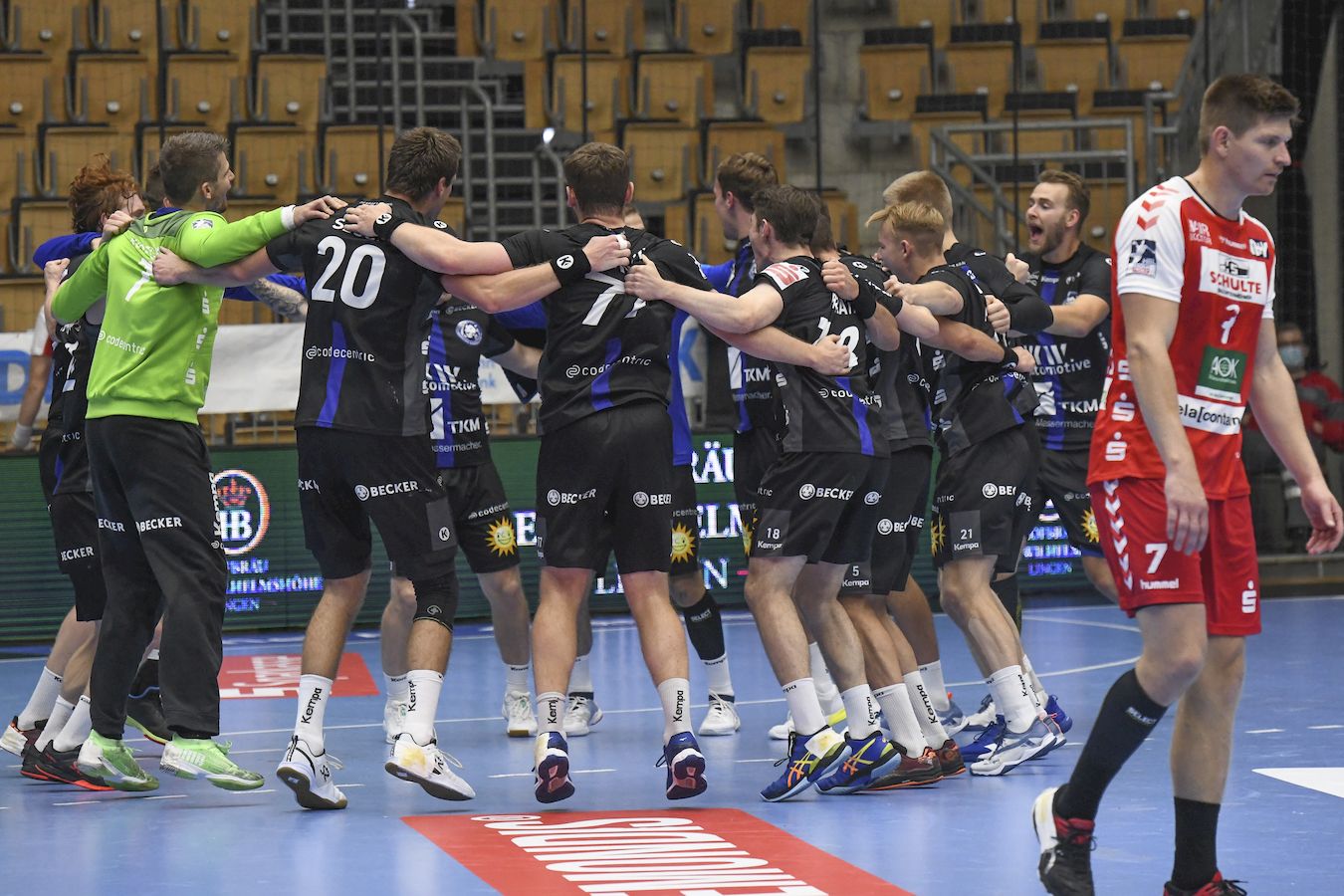 THW Kiel have suffered the first defeat in Bundesliga season 2020/2021. After three rounds three teams are staying on the TOP with 100% score. Rhein Neckar Lowen beat TuSEM Essen 33:27 at SAP Arena, but also SG Flensburg Handewitt showed more in clash with GWD Minden 29:24.
The third team is Bergischer, who won in Nordhorn 31:26 after away win in Magdeburg at the start of the season.
SG Flensburg-Handewitt – GWD Minden 29 : 24 (15:12)
SG Flensburg-Handewitt: Johannessen 6, Röd 5, Wanne 5/3, Gottfridsson 3, Svan 3, Larsen 2, Semper 2, Sikosek Pelko 2, Hald 1
GWD Minden: Rambo 11, Pehlivan 5, Korte 4/2, Meister 1, Padschywalau 1, Pusica 1, Richtzenhain 1
Rhein-Neckar Löwen – TuSEM Essen 33 : 27 (16:15)
Rhein-Neckar Löwen: Schmid 8/2, L. Nilsson 6, Tollbring 4, Gensheimer 3/3, Patrail 3, Baena Gonzalez 2, Lagarde 2, Lagergren 2, Gislason 1, Kirkelökke 1, Petersson 1
TuSEM Essen: L. Firnhaber 11, Jus. Müller 4, Zechel 3, Becher 2, Ignatow 2/1, Klingler 2/1, Morante Maldonado 2, Szczesny 1
HC Erlangen – MT Melsungen 31 : 21 (13:9)
HC Erlangen: Olsson 7, Jeppsson 5, Ivic 4/2, Metzner 4, Fäth 3, Jaeger 2, Kellner 2, Bissel 1, Büdel 1, S. Firnhaber 1, Schäffer 1
MT Melsungen: K. Häfner 5, Arnarsson 4, Kühn 4, Kastening 2, Kunkel 1, Maric 1, Pavlovic 1, Pregler 1, Reichmann 1/1, Salger 1
HSG Nordhorn-Lingen – Bergischer HC 26 : 31 (14:15)
HSG Nordhorn-Lingen: Miedema 9, R. Weber 6/3, Vorlicek 3, Possehl 2, Pöhle 2, Seidel 2, De Boer 1, Kalafut 1
Bergischer HC: D. Schmidt 6, Babak 4, Boomhouwer 4, Darj 4, Fraatz 3, Gutbrod 3, Stutzke 3, A. Gunnarsson 2/2, Nikolaisen 1, Szücs 1
SC DHfK Leipzig – Füchse Berlin 24 : 24 (10:13)
SC DHfK Leipzig: Krzikalla 8/4, Binder 6, Ph. Weber 6, Mamic 2, Larsen 1, Milosevic 1
Füchse Berlin: Andersson 7, Lindberg 3/1, Marsenic 3, Matthes 3, Michalczik 3, M. Vujovic 2, Drux 1, Holm 1, Wiede 1
STANDING:
1.

Rhein-Neckar

3
3
0
0
89:71
6

2.

Flensburg-H.

3
3
0
0
91:77
6

3.

Bergischer

3
3
0
0
91:78
6

4.

Leipzig

3
2
1
0
80:65
5

5.

SC Magdeburg

3
2
0
1
87:75
4

6.

HSG Wetzlar

3
2
0
1
87:75
4

7.

Lemgo

3
2
0
1
78:75
4

8.

Hannover-Burgdorf

3
2
0
1
84:82
4

9.

Kiel

3
2
0
1
92:92
4

10.

Stuttgart

3
2
0
1
81:81
4

11.

MT Melsungen

3
2
0
1
73:75
4

12.

Fuchse Berlin

3
1
1
1
71:76
3

13.

Goppingen

2
1
0
1
50:51
2

14.

Erlangen

3
1
0
2
86:86
2

15.

Essen

2
0
0
2
50:64
0

16.

HBW Balingen-Weilstetten

3
0
0
3
74:83
0

17.

Minden

3
0
0
3
73:84
0

18.

Ludwigshafen

3
0
0
3
65:77
0

19.

Nordhorn-Lingen

3
0
0
3
72:89
0

20.

Coburg 2000

3
0
0
3
71:89
0