Celje miss to take point in Veszprem – "Lions" celebrate in Zagreb!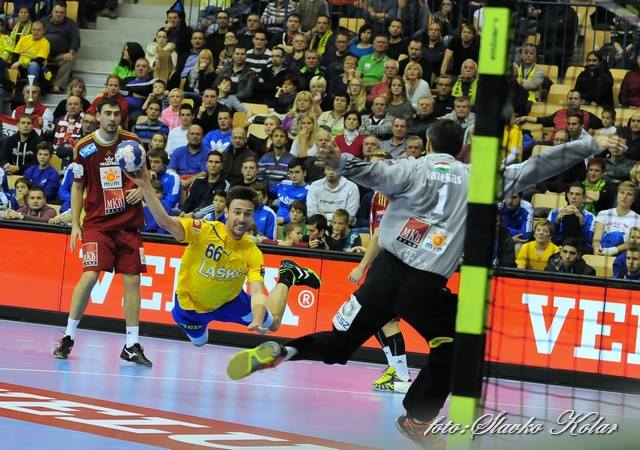 Interesting Saturday at Velux EHF Champions League Group A. Surprising performance of Slovenian RK Celje Pivovarna Lasko isn't awarded with a point in Veszprem Arena – 27:26. Domestic team had +3 (27:24) two minutes before the final whistle, but team of Vladan Matic ( the last coach who broke the rule of Veszprem in Hungarian handball with Pick Szeged in 2007) managed to attack for the draw in the last minute. At the end, David Razgor had a chance to score for 27:27 in the last second, but he missed and both points stayed in Veszprem…
Veszprem : Celje Pivovarna Laško 27:26 (13:10)
Veszprem: Fazekas, Alilović, Gulyas 3, Ivancsik G. 1, Schuch, Ivancsik T. 6 (4), Ruesga 2, Ilić 4 (2), Jamali 1, Ugalde 4, Chema Rodrigez 2, Terzić, Sulić 4, Pešić, Ligetvari, Gyene.
Celje Pivovarna Laško: Lesjak, Skok, Blagotinšek, Marguč 6 (2), Žuran, Janc, Razgor 2, Ranevski, Skube 7, Poteko 2, Slišković, Potočnik, Zelenović 6, Žabič, Lekai 2, Žvižej 1.
In the second match of Group A, Rhein Neckar Lowen had tough 45 minutes in front of 6000 fans in "Zagreb Arena" – 28:24 (13:12). Brilliant start of the second half by home team (5:0 series for 17:13) didn't disrupt "Lions" who managed to get back to the game after time-out by Gudmundur Gudmundsson and without pressure finish the job in the last ten minutes…
HC Croatia Osiguranje Zagreb – Rhein-Neckar Löwen 24:28 (12:13)
HC Croatia Osiguranje Zagreb: Stevanovic (n.e.), Ivic; Maric (1), Mihic, Stepancic (6), Matulic (6/1), Sprem (2), Coric, Sebetic, Horvat (2/1), Sandrk, J. Valcic (3), T. Valcic, Mandalinic (3), Obranovic (1), Kaleb.
Rhein-Neckar Löwen: Landin Jacobsen,Peribonio  (ab 40.); Schmid (3), Gensheimer (6/2), Roggisch (n.e.), Manojlovic , Sigurmannsson (n.e.), Gorbok (1), Prodanovic (n.e.), Myrhol (4), Groetzki (5), G. Guardiola (3), I. Guardiola , Ekdahl du Rietz (3), Petersson (3)
| | | | | | | | | | |
| --- | --- | --- | --- | --- | --- | --- | --- | --- | --- |
| 1. MKB-MVM Veszprém | 6 | 6 | 0 | 0 | 193 | : | 145 | (48) | 12 |
| 2. Rhein-Neckar Löwen | 6 | 4 | 1 | 1 | 181 | : | 153 | (28) | 9 |
| 3. HC Motor Zaporozhye | 6 | 3 | 1 | 2 | 171 | : | 179 | (-8) | 7 |
| 4. HC Croatia Osiguranje Zagr… | 6 | 2 | 0 | 4 | 161 | : | 171 | (-10) | 4 |
| 4. Celje Pivovarna Lasko | 6 | 2 | 0 | 4 | 159 | : | 161 | (-2) | 4 |
| 6. St. Petersburg HC | 6 | 0 | 0 | 6 | 120 | : | 176 | (-56) | 0 |