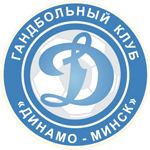 Brest Meshkov announced that they will try to dethrone Dinamo Minsk as the sole ruler of Belarussian handball this season, but so far it isn't being successfull. In the first derby this season between these two teams, Dinamo Minsk beat Brest Meshkov away. The Champions-League participant traced their way for a possible new title with a 31:28 (18:14) victory.
Meshkov (Brest) – Dinamo (Minsk) 28:31 (14:18)
Brest Meshkov: Božić, Čerepenjko – Đukić, Kolesnev (1), Ataevas (2), Prakapenja (3), Knjazev (4), Šumak, Vukić (3), Grosas, Karačić, Tatarin (10), Ušal, Baranov (5).
Dinamo Minsk: Pejanović, Bogdanov – Ševaljević (1), Rutenko (7), Babičev (2), Ševelev, Doroщuk, Čepulis, Nikulenkov (6), Ataman (8), Stesora (4), Ostrouško, Brovko (3).
Dinamo Minsk plays in the Group Phase with RK Zagreb, Barcelona, Pick Szeged, Kadetten and Fuchse Berlin.