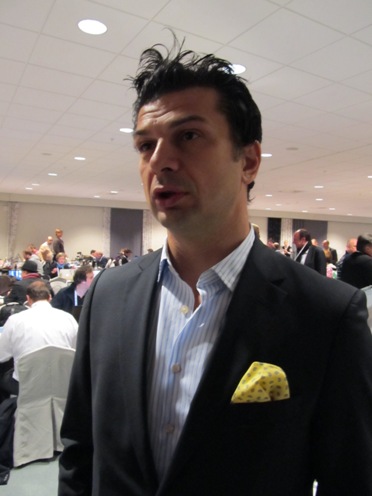 IHF World's BEST PLAYER 2000, Dragan Skrbic has praised Handball-Planet.com idea to organize contest for the HANDBALL PERSON OF THE YEAR 2012.
– We had four big events in 2012 – Two European championships, Olympic tournament and EHF F4 in Cologne. Olympic Games are the biggest event in sports history, F4 is place wheremeet four best teams of the year, but my biggest impression took Men's EHF EURO 2012 in Serbia. Of course, one of the reason is that event was in Serbia, but more than that because of fantastic handball, brilliant organization and 45.000 people in the "Belgrade Arena" – says Skrbic, who has no doubt about handball person of the year:
– Claude Onesta, not just because of the Olympic gold, but for all success with France in the last decade. Sports people know that is much tougher to defend than to win something. I didn't expect as lot of people that France can win gold in London after bad results in Serbia. That's why I think Onesta could take this award.
Skrbic has only nice words about Montenegrian women's nt:
– Montenegrian girls were fantastic. They have played in two finals, beat unbeatable Norway and showed that with huge talent, discipline, knowledge and good leadership one small country can make great results. In Sports David can beat Goliat.
Bad things happen…
– That is influence of crisis on development of handball, especially in Spain. Some teams with huge tradition as Ademar Leon and Valladolid are on the edge of bankrupt as many other teams. Only Barcelona is stabil and trend is that Spanish handball will back in amateur framework…