Handball-Planet.com talked with Pick Szeged and Hungarian International pivot Szabolcs Zubai after winning the EHF Cup and before the second match of the WCh 2015 Play-Off against Slovenia in Velenje (first match 25:22)…
You have already won so many medals in your career but no gold until now. How does it feel?
I will be on top once we win the Hungarian Championship. For me it is the biggest deal. Winning an international cup is also fascinating but for me it's more important to finish before Veszprém. I have been a pro player since the age of 18 and this is my first gold. It was fantastic to celebrate in front of 6000 people in Szeged or to listen toWe are the champions in Berlin  I can't even fully comprehend just yet
After the first half of the season the team's development was obvious, you won the group matches confidently. You were equal opponents of Veszprém but then in March there were some unexpected results and it seemed that team play was still not working. But then your fantastic performance in Berlin came. What was the reason for this? Coach Pastor's timing of form?
We weren't considered to be favourites but I personally didn't care about this and we all wanted to win in Berlin, we all wanted to show what a great team we had. With Pastor we had to learn a new system and we needed time for that. After the EC in January many of us came back tired but we still had to play a lot of matches. Even my form was fluctuating and returning to club competitions wasn't without problems. Maybe this was the reason.
How did Pastor manage to shake the team up? Did he change the tactics?
At that time we didn't have to learn much, the Mister only wanted us to perfect what we already knew. It wasn't easy to learn a whole new system and to make it work flawlessly in critical situations. According to Marko (Marko Krivokapic, trainer) we only used about 60-70% of Pastor-system anyway.
In the final of the league we played two very good matches against Veszprém and we profited from those in Berlin.
Can you say that the league final was a sort of preparation for Berlin?
We definately didn't consider it to be just preparation, the team and the coach wanted to win all possible matches. The final served our purposes and then we managed to play a great match against Füchse and after winning that I was rather sure we would win in the final too.
Many players did their best, among them was Ferenc Ilyés, who was previously criticized for not playing well during the season.
It surely wasn't easy for Ilyés. For me personally it would have been a great blow if coming back from the Olympics as captain of the national team I had been told that my club (Veszprém) no longer needed me. I believe it could set a player back a lot. He needed time as he had played almost only in defense in the last few years. But I'm also very happy that he has proven himself to be a good attacking player too.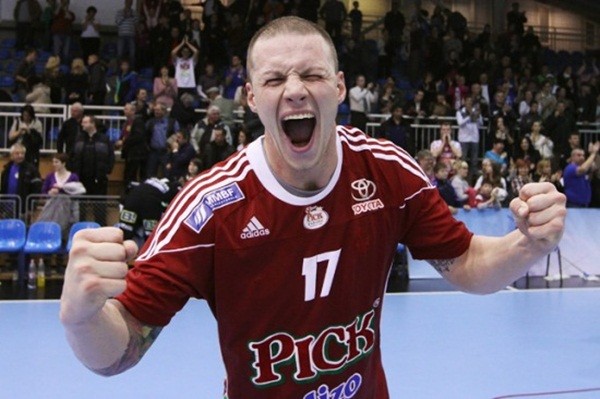 Is the team of Pick Szeged going to be stronger next season?
I would say the squad is changing, we shall see how the new guys fit in. I'm very sorry about Mikler's departure but since good players are also coming, I'm optimistic.
In Hungarian media many people have said that a Hungarian team combined with a Spanish trainer is the recipe for success. What is your opinion about this? Is it true that these trainers can bring so much fresh air into Hungarian handball?
Among Hungarian trainers I would pick László Skaliczki (former head coach of Hungary) who is an outstanding trainer, his results speak for themselves. Only teams trained by him were able to defeat Veszprém for the Championship (1996: Pick Szeged, 2000: Dunaferr). Vilmos Imre is also a well-prepared trainer. The biggest difference might be the personal appeal of a Spanish trainer and of course the solid financial status of a team. These are the main reasons why several renowned players have come to Hungary. Spanish trainers are also paying very close attention to every little detail. Pastor is very thorough, he knows everything that is to know about our actual opponents. The Spanish are really playing this game, they play in certain areas both in attack and defense. This is like a mathematical equation. At first it seems very difficult but then the coach shows it step by step, then you begin to understand and then use it. It is very important to perfectly master this system as in this game even a very short delay can be fatal.
"I WANTED TO BE A SWIMMER"
Lets go back to the beginning. When did you decide to become a pro handball player? 
In primary school I used to swim, I wanted to be a swimmer. Tamás Darnyi (4-time Olympic champion.) was my idol. Later my classmates told me about handball, I tried it and got stuck there. I moved to Elektromos in Budapest, then I was invited to the national youth team and 2 years later Vilmos Imre brought me to Dunaferr SE. I already knew then that I wanted to be a pro player. We had some great players in Dunaújváros for example Roland Mikler and Gábor Császár.
Do you/did you have any goals in pro sport? goals that you thought about when you were a child?
When I decided to become a handball player my dream was to win a medal at a world event, especially the Olympics..We were very close to this in London but I would also like a chance to do it in Rio. I think the Hungarian national team is destined to win a medal somewhere. I don't know which event it will be at, but I think we are capable to do this. i would like to achieve this a lot. i wouldn't like to finish club handball career without ever winning the Hungarian Championship and the Cup.
After the 'bronze age' in Dunaferr you entered the 'silver age' in Szeged. If I count it correctly you now have 5 silver medals in the championship. Maybe the golden age will start next season? When do you think your team will be able to get past Veszprém?  Can you reach their level soon or maybe it's best to concentrate on international cup competition? I have 8 or 9 bronze medals, five silver and now the EHF Cup gold. But now I would also like to reach the top of the Hungarian League. I know we are not the favourites but we work each and every day to feel again what we felt in Berlin or in Szeged in front of thousands of celebrating fans. If you settle for less you will never be first but only if you prove yourself day by day. My mother taught me that when I was a child and I have been living like this ever since.
Do you have a motto? How do you think a person can be really successful? What is your 'recipe'?
I believe in hard work. You have to do your work honourably and maybe not immediately but the results will come. I had wait 12 years to win my first gold, but I also played 180 times in the national team of Hungary. I have participated in every major world event since I was a youth player, I played at the Olympics so I think it was worth working hard and I'm sure further success will come.
Did you bring this kind of mentality from home?
Yes. my mother brought me up like this. I made the decisions but I also took the responsibility. If I ever started something I had to finish it decently.
Would you do anything differently in your life? How about considering a chance to play abroad? 
I could have played abroad. i really though hard about it but because of my family I decided to stay here. My family keeps together and now I can meet them in every 2-3 weeks. If I played abroad it would decrease to 1-2 times a year and I wouldn't like that. I love Szeged, I think it's a very livable town. People are sympathetic here and i like being here a lot.
Will you have a new tattoo to commemorate the EHF Cup win?
Definitely yes, but i don't know what kind of tattoo it will be yet.
Last season Löwen won the EHF Cup. This year they almost made a miracle in the CL quarter-final against top favourites Barcelona. Then in a thrilling endgame they only lost the German Championship by a hairbreadth against Kiel. do you think Pick Szeged will be able to produce something similar?
Yes but I hope we will be a bit luckier. We can only achieve great results as a team. Next year we need to produce just like Löwen and if we have luck on our side we might just grab the Hungarian Championship. we will work day by day tho reach this goal.
Hungary managed to beat Slovenia by 3 goals at last weekend's WC qualifier match. What do you think about this?
I would have preferred a 5-6 goal win, which we could have achieved but unfortunately we made too many mistakes in attack. Our defense was OK but we definitely need to improve in attack.
Do you think the many missed chances were due to end-season fatigue?
No, I don't think so. We prepared decently for the match. Skof was great and we missed at least 8-10 great chances so the return match will be difficult. But we will win in Velenje too!
What are your plans for summer?
After the World Cup qualifiers we are planning to go on holiday with some of my friends, It seems Thailand will be our destination.
Text: Gábor Várkonyi, Péter Butty
Photo: www.hatosfal.postr.hu