Scandinavia
Jonathan Carlsbogård is Swedish player of the season!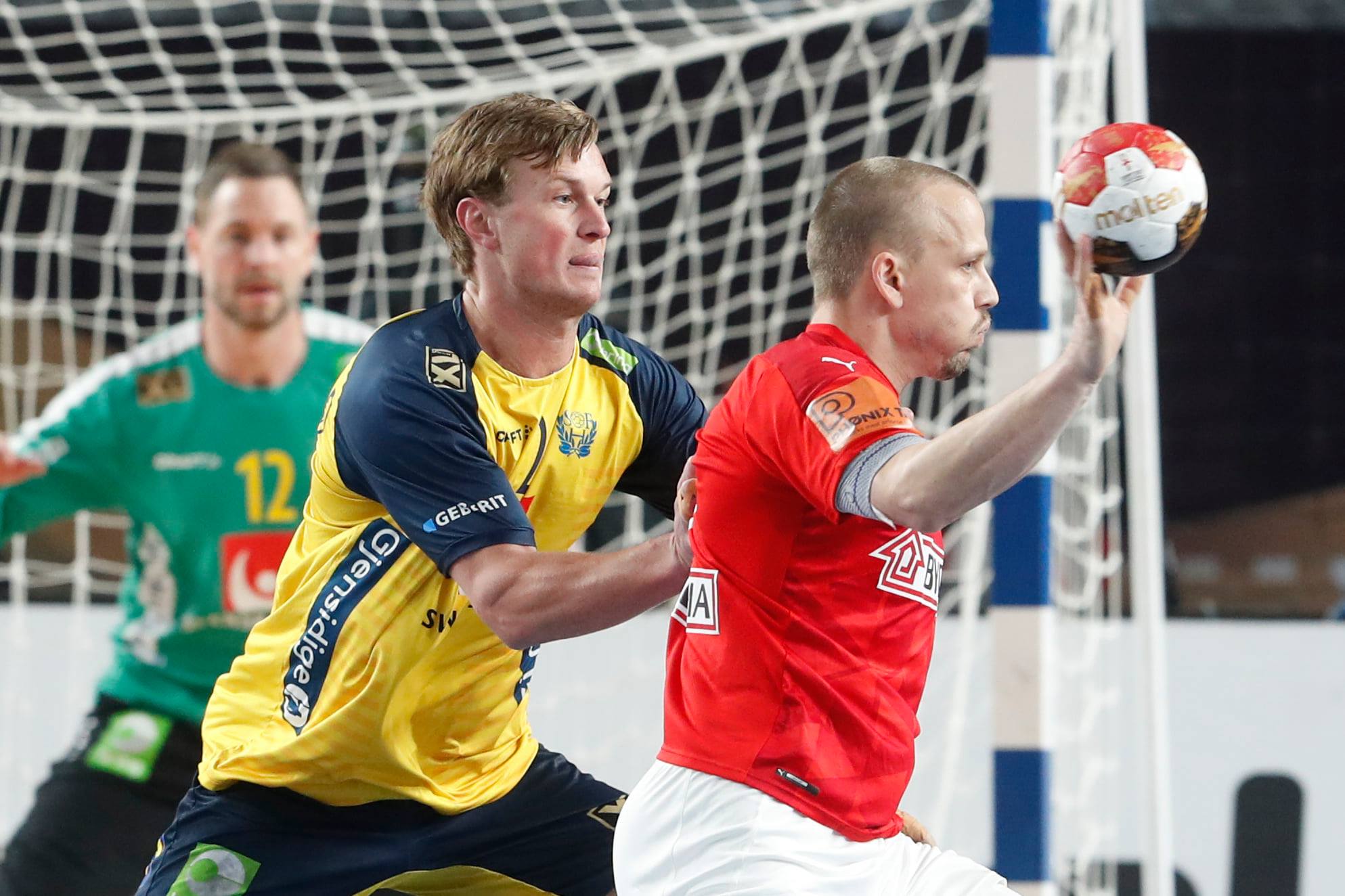 Two and a half years ago, Jonathan Carlsbogård had never played an international match. Now he has become European champion, won World Cup silver, played in the Olympics, wore the team captain's armband and plays for reigning Champions League champion Barcelona.
Now he can also title himself player of the year in Swedish handball.  
– I try to give my best in all situations, says the 28-year-old from Kärra. 
He never got the chance to pull on the national team shirt as a youth player, but as a 25-year-old Jonathan Carlsbogård got  the chance in Glenn Solberg's first international match as national team captain, in the European Championship qualifier against Romania in November 2020.
Of the 123 players on the men's side who have played at least 50 A-national matches, in January Carlsbogård became only the tenth to reach that level of those who have never played a U-national match. He is, however, well joined on that list by Stefan Lövgren , Peter Gentzel , Thomas Sivertsson , Ljubomir Vranjes and Tobias Karlsson – who he now also joins on the list of winners of the Player of the Year award in Swedish handball.
The Swedish Handball Association has, through a jury consisting of the elite council and the association captain Glenn Solberg , named Jonathan Carlsbogård as player of the year in Swedish handball on the men's side for the efforts in the national and club team during the 2022/23 season. He will receive the award in the Kristianstad Arena this evening, where Germany will be the opposition in the season's last home international.
The justification from the jury reads:
Since his national team debut in the fall of 2020, Jonathan Carlsbogård has been one of the national team's most important players, he has developed into an absolutely world-class defensive player and has been a strong contributor to Sweden winning EC gold, WC silver and reaching three semi-finals in just over two years. He has quickly become a cultural bearer in the national team, is a leader and role model on and off the court and possesses an ability to make his teammates better. His humility, willingness to train and professionalism have taken him to the biggest stages both national team and club.  
– It's fun to be on that list, there are big names on it. It means that I have done something good, something that others appreciate, says the humble left-back and central defender who has been in the national team since his debut and, in the absence of regular team captain Andreas Palicka, took turns with Max Darj to wear the team captain's armband.
Before your debut, could you have guessed that two and a half years later you would be a given in the national team, title yourself European champion and play for the Champions League champion?
– No, I really couldn't have believed that. I was trusted from the start in my first international match and have been given a bigger and bigger role all the time. And this summer I also had the opportunity to take the step to a real big club.
How was it?
– It felt a little unrealistic at first, something I couldn't even dream of because it was so far away. I'm starting to get into it, although it's still something extra. It's a completely different environment in terms of quality than I've experienced before, playing in such a big club with everything it stands for. There are so many talented players, so there is an extremely high level in all training.
He has already won the league and one of the national cups with Barcelona and apart from the loss in the final of the Super Globe against Magdeburg last autumn and a cross against Kiel, he has won every single game with the club team. With the national team, there have been twelve victories in 15 games this season.
What has been the highlight of the season so far?
– The home championship for sure, even if it didn't go as well as we had hoped. We would have liked a new WC medal, but you don't always get what you dream of.
– But to play in front of a packed Scandinavium every other day, to run onto the court, to sing the national anthem, that's something you dreamed of as a child.
Two internationals remain this season, Germany tonight and then world champions Denmark in Herning on Saturday.
– It will be fun matches to play. Tough, even matches against good opponents. We have good chances against good teams, but also know that we can lose to both if we are not in it. We go in to win every game, even if there are no championship medals at stake, we always want to win, that's not changing.
The match against Germany will be played in Kristianstad Arena at 18.35 this evening and will be broadcast on SVT2 and SVT Play.
The women's player of the year award was presented in conjunction with the season's final home international against Denmark earlier in April and went to Jamina Roberts for the second year in a row.
PLAYER OF THE YEAR IN SWEDISH HANDBALL (MEN)
1968:  Lennart Eriksson, SoIK Hellas
1969:  Lennart Eriksson, SoIK Hellas
1970:  Mats Thomasson, HK Drott
1971:  Dan Eriksson, SoIK Hellas
1972:  Thomas Persson, IFK Kristianstad
1973:  Bo Andersson, IFK Malmö
1974:  Johan Fischerström, SoIK Hellas
1975 :  Sven-Åke Frick, Ystads IF
1976:  Björn Andersson, IF Saab
1977:  Bo Andersson, IF Guif
1978:  Basti Rasmussen, Ystads IF
1979:  Claes Hellgren, IK Heim
1980:  Claes Ribendahl, Lugi HF
1981:  Göran Bengtsson, HK Drott
1982: Jörgen Abrahamsson, HK Drott
1983:  Sten Sjögren, Lugi HF
1984:  Peter Olofsson, GF Kroppskultur
1985:  Björn Jilsén, Redbergslids IK
1986  : Magnus Wislander, Redbergslids IK
1987:  Mats Olsson, Lugi HF
1988:  Pär Jilsén, Redbergslids IK
1989:  Ola Lindgren, HK Drott
1990:  Ola Lindgren, HK Drott, and Magnus Wislander Redbergslids IK
1991:  Magnus Andersson, HK Drott
1992:  Per Carlén, Ystads IF
1993:  Magnus Andersson, Tus Schutterwald (Germany)
1994:  Magnus Andersson, HK Drott
1995:  Erik Hajas, IF Guif
1996: Stefan Lövgren, Redbergslids IK
1997:  Thomas Sivertsson, HK Drott
1998:  Peter Gentzel, Redbergslids IK
1999:  Ljubomir Vranjes, Redbergslids IK
2000:  Magnus Andersson, HK Drott
2001:  Stefan Lövgren, THW Kiel (Germany)
2002:  Martin Boquist, Redbergslids IK
2003:  Martin Boquist, Redbergslids IK
2004:  Stefan Lövgren, THW Kiel (Germany)
2005:  Marcus Ahlm, THW Kiel (Germany)
2006:  Tomas Svensson, Portland San Antonio (Spain)
2007:  Kim Andersson , THW Kiel (Germany)
2008:  Kim Andersson , THW Kiel (Germany)
2009:  Jonas Källman , Ciudad Real (Spain)
2010:  Mattias Gustafsson, Tus N-Lübbecke (Germany)
2011:  Johan Sjöstrand, FC Barcelona (Spain)
2012:  Kim Andersson , THW Kiel (Germany)
2013:  Tobias Karlsson, SG Flensburg- Handewitt (Germany)
2014:  Mattias Andersson, SG Flensburg-Handewitt (Germany)
2015:  Niclas Ekberg , THW Kiel (Germany)
2016:  Andreas Nilsson , MVM Veszprem (Hungary)
2017:  Mikael Appelgren , Rhein-Neckar Löwen (Germany)
2018:  Jim Gottfridsson , SG Flensburg-Handewitt (Germany)
2019:Max Darj , Bergischer HC (Germany)
2020: Andreas Palicka , Rhein-Neckar Löwen (Germany)
2021: Hampus Wanne , SG Flensburg-Handewitt (Germany)
2022:  Jim Gottfridsson , SG Flensburg-Handewitt (Germany)
2023: Jonathan Carlsbogård , FC Barcelona (Spain)