Kempa Cup 2013: SC Magdeburg wins trophy!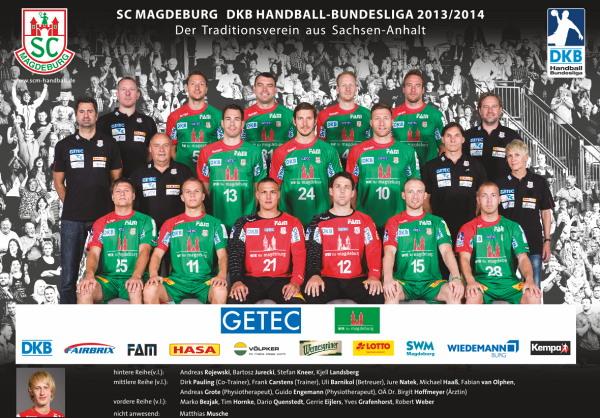 German SC Magdeburg wins the traditional Kempa Cup 2013 with a victory over FA Goppingen 26:22 (13:12). Rhein Neckar Lowen was the third, while EHF Champions League team, RK Zagreb and Celje Pivovarna Lasko were in the clash for the fifth…
Here you can see complete results.
Group A
| | | | |
| --- | --- | --- | --- |
| FRISCH AUF! Göppingen | 6:0 | | |
| Rhein-Neckar Löwen | 4:2 | | |
| RK Zagreb | 2:4 | | |
| TV 1893 Neuhausen | 0:6 | | |
Group B
| | | | |
| --- | --- | --- | --- |
| SC Magdeburg | 6:0 | | |
| TV Bittenfeld | 4:2 | | |
| RK Celje | 2:4 | | |
| HBW Balingen-Weilstetten | 0:6 | | |
RESULTS:
Friday, 09. August 2013
18:00 Uhr
A-Jugend TV Bittenfeld – SV Salamander Kornwestheim (in Schwaikheim)
37:24 (15:7)
18:00 Uhr
A-Jugend JSG Echaz-Erms – FRISCH AUF! Göppingen (in Wolfschlugen)
35:24 (15:11)
20.00 Uhr
SC Magdeburg – TV Bittenfeld (in Wolfschlugen)
31:29 (17:10)
20.00 Uhr
RK Celje – HBW Balingen-Weilstetten (in Neckarsulm)
31:23 (17:13)
20.00 Uhr
RK Zagreb – FRISCH AUF! Göppingen (in Lenningen)
27:35 (12:13)
20.00 Uhr
TV Neuhausen – Rhein-Neckar Löwen (in Schwaikheim)
23:33 (9:15)
Saturday, 10. August 2013, 2×25 Minuten (Glaspalast Sindelfingen)
09.30 Uhr
TV Neuhausen – RK Zagreb
21:27 (12:10)
10.50 Uhr
TV Bittenfeld – HBW Balingen-Weilstetten
27:23 (12:11)
12.10 Uhr
FA Göppingen – Rhein-Neckar Löwen
27:24 (15:12)
13.30 Uhr
RK Celje – SC Magdeburg
25:32 (11:16)
14.50 Uhr
Rhein-Neckar Löwen – RK Zagreb
29:20 (16:10)
16.10 Uhr
HBW Balingen-Weilstetten – SC Magdeburg
25:30 (12:15)
17.30 Uhr
TV Neuhausen – FA Göppingen
21:29 (10:15)
18.50 Uhr
RK Celje – TV Bittenfeld
25:27 (13:12)
Sunday, 11. August 2013 (Glaspalast Sindelfingen)
09.30 Uhr
For the 7th place: TV 1893 Neuhausen – HBW Balingen-Weilstetten
21:30 (6:12)
11.00 Uhr
For the 5th place: RK Zagreb – RK Celje
20:18 (12:11)
12.30 Uhr
Finale Regio-Cup A-Jugend TV Bittenfeld – JSG Echaz-Erms
24:19 (8:11)
14.00 Uhr
For the 3rd place: Rhein-Neckar Löwen – TV Bittenfeld
25:18 (11:12)
15.30 Uhr
Final: FRISCH AUF! Göppingen – SC Magdeburg
22:26 (12:13)