Kielce crush Szczecin 45:24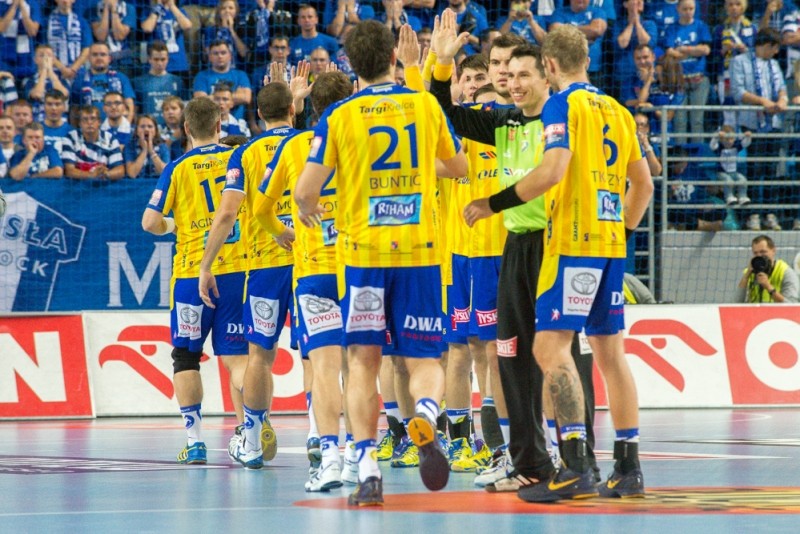 Thursday evening turned out to be very successful for Vive Tauron Kielce as they beat Gaz-System Pogoń Szczecin 45:24. Even though the squad from Szczecin is badly deficient, the third team of the Polish league table was expected to stand up to Kielce a little bit more. Especially that Kielce also was weakened by the lack of not only Aginagalde, Reichmann and Rosiński, but also Lijewski and Štrlek.
The very beginning of the game could suggest that it was going to be a difficult one for Kielce. Polish champions could not break through their opponents' defence and as a result in 4. minute they were losing 0:3. It was too much for coach Duyshebaev to bear and he called for the time-out. Just like in the previous game against Kadetten Schaffhausen, the attack of Kielce left much to be desired, but Pogoń also wasted their chances. Thanks to that the hosts were able to equalize and in 12. minute Ivan Čupić gave his team their first lead 6:5. Pogoń wouldn't let go and managed to take the lead back (10:11, 18. minute). This equal game didn't last long, though. With 5 minutes to go, Kielce stormed ahead and left the court leading 20:14. The team, however, remained with only one center back as Uroš Zorman left the court injured in 25. minute.
The second half was a continuation of the first one. Pogoń kept playing worse and worse; Bruna and Konitz weren't as effective as at the beginning and even quite well-performing goalkeeper Krzysztof Szczecina couldn't do much on his own. Pogoń almost stopped and let Kielce play their game. The result of this was 20-goal-lead in 58. minute. In the end, the match ended up with 45:24 result.
STANDINGS:
| | | | | | | | |
| --- | --- | --- | --- | --- | --- | --- | --- |
| 1 | Vive Tauron Kielce | 12 | 12 | 0 | 0 | 444:299 | 24 |
| 2 | Orlen Wisła Płock | 11 | 9 | 1 | 1 | 370:293 | 19 |
| 3 | Górnik Zabrze | 11 | 7 | 1 | 3 | 356:327 | 15 |
| 4 | Gaz-System Pogoń Szczecin | 12 | 7 | 1 | 4 | 374:364 | 15 |
| 5 | PGE Stal Mielec | 11 | 6 | 2 | 3 | 325:297 | 14 |
| 6 | Chrobry Głogów | 11 | 4 | 1 | 6 | 264:300 | 9 |
| 7 | Zagłębie Lubin | 11 | 3 | 3 | 5 | 332:380 | 9 |
| 8 | MMTS Kwidzyn | 10 | 4 | 0 | 6 | 301:292 | 8 |
| 9 | KS Azoty Puławy | 10 | 2 | 3 | 5 | 277:300 | 7 |
| 10 | Wybrzeże Gdańsk | 11 | 1 | 3 | 7 | 270:322 | 5 |
| 11 | Śląsk Wrocław | 11 | 2 | 1 | 8 | 274:338 | 5 |
| 12 | Nielba Wągrowiec | 11 | 1 | 0 | 10 | 255:330 | 2 |
TEXT: MARTYNA USNARSKA