Kjelling plans to come back to Norway?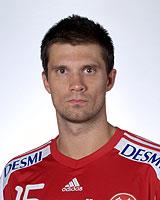 Norwegian handball star, Kristian Kjelling (33) is in process of negotiations for the new team after contract with Danish Aalborg ended next summer. Former left back of Spanish team, Ademar Leon and Portland San Antonio is close to back home. Drammen HK wants him but financial potential of Norwegian team isn't too high for Kjelling's demands. However everything is still open and Kjelling doesn't hide that there is a few options:
– I have been in dialogue with others. Drammen is one of them – explains Kjelling who already played there from 1998 until 2001.