The Chilean team celebrated the victory at the end of the 24th Men's Handball World Championship in Qatar after superb come-back in the match for 23th place against Algeria and penalty-shootout. That was the third win for the Chilean handball ever on World Championship, but the first one over some team from Africa (both wins were against Australia on the last two Championships in Spain and Sweden). Handball-Planet.com talked with the biggest Chilean handball star, former player of FC  Barcelona, MVM MKB Veszprem, now in German GWD Minden, Marco Oneto:
Are you satisfied with your performance at Qatar 2015?
Not really. We did not perform to the level I believe we are capable of playing to but this is a world championship, playing against the world's best – you have to perform at the highest level all of the time. The guys will certainly gain experience from this tournament and be more prepared and stronger when 2017 comes around.
What was the best match for you on this tournament?
Well for me to choose a full match is complicated, but I will choose the match against Qatar. It's always great to play the home nation and the team played well. I also enjoyed winning our first game of the tournament last night – more than we deserved!
What are positive things in your participation at WCh 2015?
For us it was to gain further experience at the highest level, to improve our concentration for the full 60 minutes and to learn how to capitalise on the advantage when we get it. Also, to try and raise the profile of handball back in Chile, where football is the dominant sport.
How you can describe handball in Chile?
The handball in Chile is totally amateur. The handball community in Chile is relatively small and is made up of people who have an incredible passion for the sport. Everyone has had to make a huge sacrifice both personally and professionally to be a part of the national team. But even though we don't get any real financial support, in the last 4 years we continue to get better and better. We have a domestic league in Chile which was set up 2 years ago and we are working to send young players to Europe to learn and have the options to grow like a professional players.
Brazil and Argentina are leading forces in South America, but also non-European handball world. Could Chile progress on their level?
That's the master plan! We are working hard but there is only so much you can do with limited funding. Brazil have had huge investment into handball as hosts of next year's Olympic Games and Argentina have many players currently playing in Europe's top leagues. Step by step we hope to achieve this for Chile also.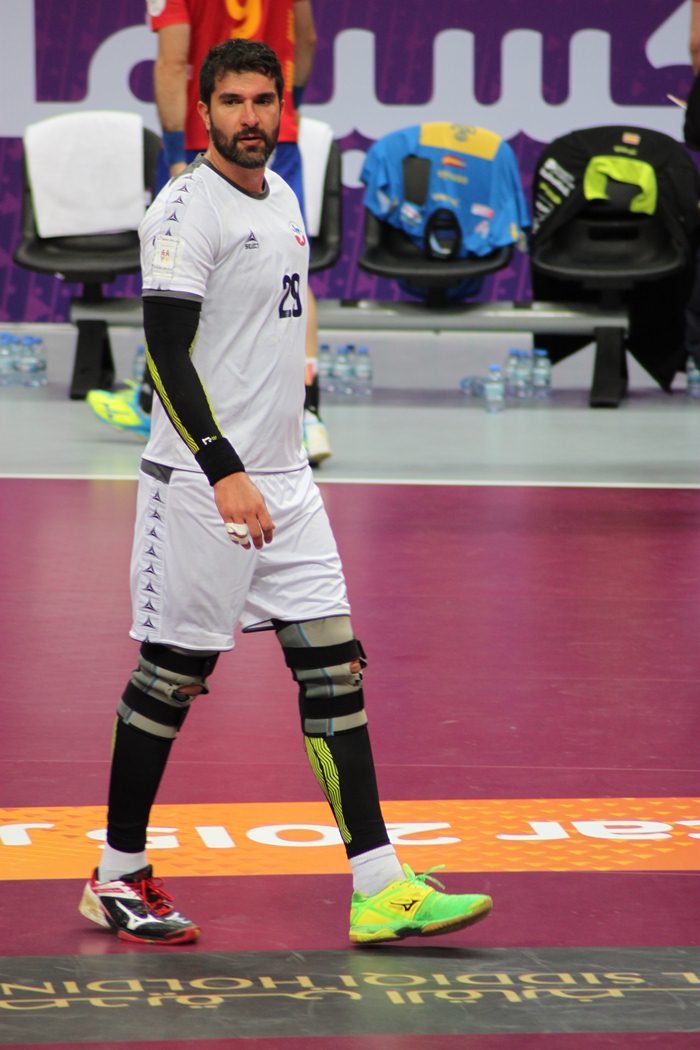 What are you personal plans for the future? How many of your team-mates are professional or they would like to be by signing contracts in Europe? Tell us a little more about your handball project in Minden working with players from Chile?
About me, I can tell you that my plans are to come back to Chile and try to help the sport in general. I want handball to grow, to get more young players involved and to ensure that they will not have the same problems I had when I started to play the game. On the national team we have 6 full time professional players and I know they are many other players that would like to sign professional contracts in the squad.
I have a project which I'm currently running in Minden which aims to give the young players the experience of living and training like a professional player. I never had this opportunity when I started out, I took a gamble and just came to Europe not knowing anyone or having anywhere to really go.  I don't want others to experience what I had to go through and instead put in place a real life opportunity. I started the project 3 years ago with the support of the COCH (olimpic comité of chile ), the Handball Federation and my club in Minden (without them it would not be possible). Ignacio Vejar, Ignacio Porta and Matias Canton are the first 3 kids in this project and were selected after holding regional and national selection camps. During their 3 month stay, they train and play with the Minden youth team and sometimes train with the First Team. I hope that they will be the first of many in the future.
MIZUNO MODEL
We've noticed you wearing 2 different colourways of Mizuno shoes during the tournament, tell us a little more about the idea behind this? We've seen it in soccer but must be a first in handball, do you think it's a trend which will catch on?
Hahahahhaahha !!! Well actually I'm not a fan of football at all… And i didn't know that, but this idea just came to me when I saw a young player at Minden doing the same because he had a problem with one of his handball shoes… When I saw him I really liked how it looked and I said to my friend that I will do the same at the World Championships for a bit of a laugh. And that's all… There was not another particular reason for that.. And if this becomes a trend…. then great!! I'm just thankful that Mizuno make awesome shoes and in some great colours to experiment with! – concluded Marco Oneto.