EHF
Men's EHF EURO 2024 groups: France and Germany together in Group A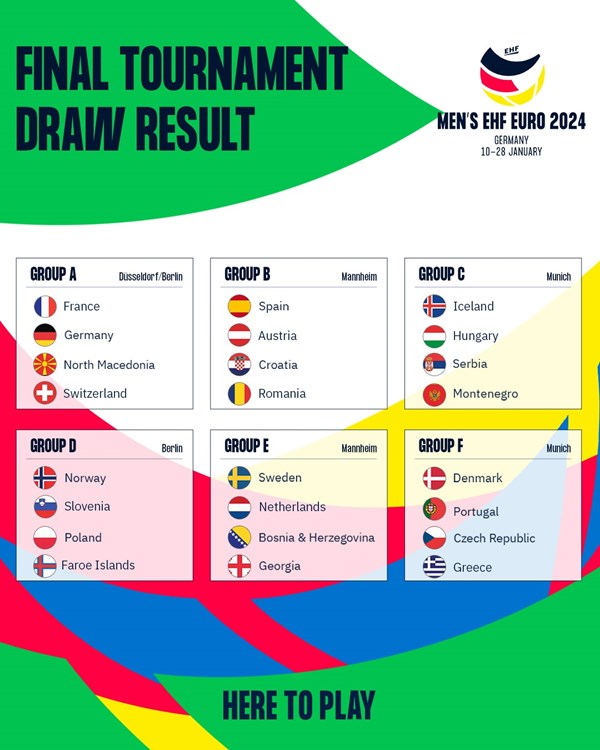 Men's EHF EURO 2024 draw has been held in Dusseldorf.
All six groups for the preliminary round have been drawn in a stylish ceremony in the MERKUR Spiel-Arena, including legendary stars of the game like Denmark's Lars Christiansen, France's Joel Abati, Spain's Julen Aguinagalde, and Dominik Klein of hosts Germany.
The exact playing times will be announced in due time. The top two teams in each group advance to the main round.
Hamburg and Cologne will be the main round venues, with Cologne's LANXESS arena hosting the final weekend of the competition.
GROUP A (Dusseldorf – Berlin): France, Germany, North Macedonia, Switzerland
GROUP B (Mannheim): Spain, Austria, Croatia, Romania
GROUP C (Munchen): Iceland, Hungary, Serbia, Montenegro
GROUP D (Berlin): Norway, Slovenia, Poland, Faroe Islands
GROUP E (Mannheim): Sweden, Netherlands, Bosnia & Herzegovina, Georgia
GROUP F (Munchen): Denmark, Portugal, Czech Republic, Greece