Morten Olsen is the hero of German weekend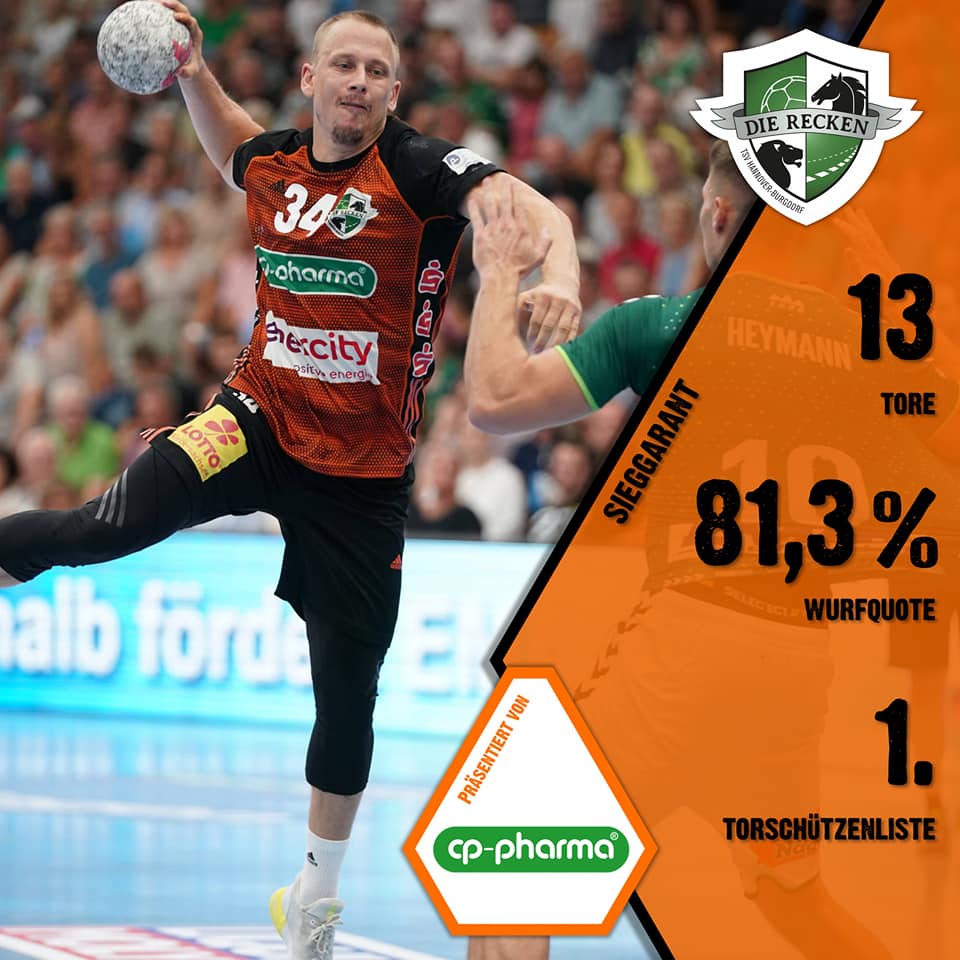 Round 2 of the German Bundesliga has been played last weekend. The player who can be called "MVP" of the weekend is Danish playmaker Morten Olsen, who scored 13 goals in total in victory of his TSV Hannover Burgdorf on always tough home court in Goppingen 27:24 (15:13).
Dane netted almost a 50% of goals of team coached by Spaniard Antonio Carlos Ortega.
Here are the results of Round 2:
Frisch Auf Göppingen – TSV Hannover-Burgdorf 24 : 27 (13:15)
Frisch Auf Göppingen: Heymann 6, Kneule 5, Schiller 3, Sliskovic 3, Zelenovic 3, Kozina 2/1, Hermann 1, Sörensen 1
TSV Hannover-Burgdorf: Olsen 13/1, Kastening 5/2, Martinovic 3, Böhm 2, Büchner 1, Cehte 1, Hanne 1, Thiele 1
HBW Balingen-Weilstetten – HSG Nordhorn-Lingen 25 : 23 (13:8)
HBW Balingen-Weilstetten: Gretarsson 6/5, Niemeyer 5, Lipovina 3, Saueressig 3/1, de la Pena 3, Zobel 2, Meschke 1, Schoch 1, Taleski 1
HSG Nordhorn-Lingen: Mickal 6/3, Miedema 4, Pöhle 4, Vorlicek 4, Smit 2, R. Weber 2, Seidel 1
Füchse Berlin – HC Erlangen 30 : 23 (11:11)
Füchse Berlin: Lindberg 10/5, Drux 5, Mandalinic 5, Ernst 2, Gojun 2, Koch 2, Marsenic 2, Milosavljev 1, Wiede 1
HC Erlangen: von Gruchalla 7/6, S. Firnhaber 5, Schäffer 4, Metzner 3, Sellin 2, N. Link 1, Minel 1
TBV Lemgo Lippe – SC Magdeburg 24 : 32 (15:12)
TBV Lemgo Lippe: Elisson 6, Klimek 4, Schagen 4/2, Baijens 2, Cederholm 2, Guardiola Villaplana 2, van Olphen 2, Suton 1, Theuerkauf 1
SC Magdeburg: M. Damgaard 8, Pettersson 6/3, Bezjak 5, Lagergren 3, Musche 3/1, Musa 2, E. Schmidt 2, Chrapkowski 1, Hornke 1, Kuzmanovski 1
SG Flensburg-Handewitt – Rhein-Neckar Löwen 30 : 27 (18:14)
SG Flensburg-Handewitt: Röd 6, Golla 5, Gottfridsson 4, Jöndal 4, Svan 3, Johannessen 2, Wanne 2/2, Zachariassen 2, Hald 1, Jurecki 1
Rhein-Neckar Löwen: Gensheimer 6/3, Kohlbacher 5, Schmid 4, Groetzki 3, Nielsen 3, Lagarde 2, Kirkelökke 1, Larsen 1, Petersson 1, Tollbring 1
Bergischer HC – MT Melsungen 24 : 24 (8:11)
Bergischer HC: Damm 6/2, Darj 5, Johannsson 4, A. Gunnarsson 3/3, Arnesson 2, Stutzke 2, Babak 1, Nippes 1
MT Melsungen: Kühn 6, Ignatow 5, Mikkelsen 5/1, K. Häfner 2, Maric 2, Allendorf 1, F. Lemke 1, Salger 1, Schneider 1
GWD Minden – DHfK Leipzig 21 : 25 (12:9)
GWD Minden: Gulliksen 7, Michalczik 4/2, Rambo 4, Reißky 2, Ritterbach 2, Meister 1, Savvas 1
DHfK Leipzig: Semper 10, Binder 4, Mamic 3, Ph. Weber 3/1, Witzke 2, Krzikalla 1, Milosevic 1, Roscheck 1
Die Eulen Ludwigshafen – HSG Wetzlar 25 : 31 (10:17)
Die Eulen Ludwigshafen: Dippe 5/2, Jer. Müller 5, Durak 3/1, Mappes 3, Scholz 3, Bührer 2, Dietrich 1, Falk 1, Haider 1, Stüber 1
HSG Wetzlar: Björnsen 7, Holst 5/2, Rubin 4, Cavor 3, Feld 3, Forsell Schefvert 3, Lindskog 2, Torbrügge 2, Mirkulovski 1, Weißgerber 1
HC Erlangen – TVB Stuttgart 29 : 24 (14:11)
HC Erlangen: Ivic 6, Büdel 5, Bissel 4, S. Firnhaber 4, N. Link 3, von Gruchalla 3/1, Schäffer 2, Metzner 1, Sellin 1
TVB Stuttgart: Zieker 8/2, Peshevski 4, M. Häfner 3, Wieling 3, Weiß 2, Asgeirsson 1, Lönn 1, Pfattheicher 1, Röthlisberger 1