MVM EHF FINAL4: Larvik and Buducnost for the glory!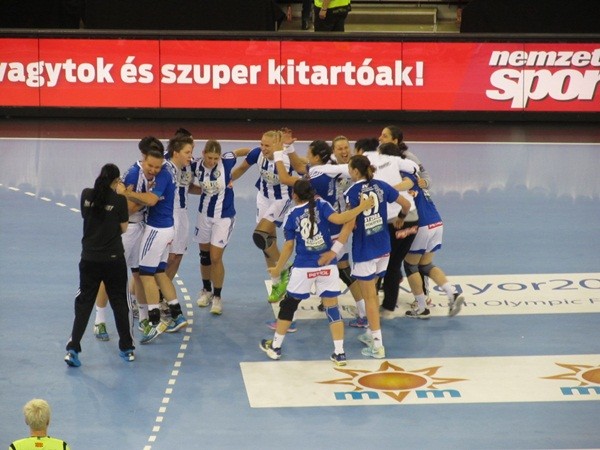 Norwegian Larvik HK and Montenegrian ŽRK Buducnost Podgorica will fight for the glory in the MVM EHF FINAL4 final match on Sunday (17 hrs) in Pap Laszlo Arena in Budapest. Saturday's semi-finals in Hungarian capital didn't give too much to those fans who wants decision before the buzzer as both finalists showed TOP class performance in beating their rivals.
Larvik overplayed Russian team Dinamo Sinara 31:22 (16:13) to get ticket for the chance to win EHF Champions League for the second time. Legendary right wing Koren Riegelhuth used all the chances to punish the rivals with nine goals in total, while Dmitrieva netted seven goals for the Russian girls.
Much bigger spectacle was expected in the clash between Balkan rivals, ZRK Budcnost and ZRK Vardar 27:17 (14:9), but on the court handball world has seen powerful squad of Dragan Adzic. Amazing Clara Woltering (14 saves), Cristina Neagu and Radmila Petrovic (both seven goals) made the clear difference between the teams from the very beginning of the match.
Pytlick-Kastratovic duo took time-out after 15 minutes to turnover the match (6:3), but Vardar had no chance. Lekic and Penezic (4 goals each) had good moments, but in total, defensive and attacking performance weren't enough to make serious problem to Adzic girls.
BUDUCNOST – VARDAR 27:17 (14:9)
BuduCnost: Woltering 14 saves, Mehmedović 3, Neagu 7, Petrović 7 (3), Knežević 4, Bulatović 1, Byzdra 1, Cvijić 3, Despotović 1
Vardar: Suslina 8 saves, Lazović 1, Penezić 4, Sokač 3(3), Radičević 2, Dembele 1, Lekić 4, Leynaud 3 saves, Ihnjeva 2
RESULTS: 3:1 (7.) 6:3 (14.) 11:7 (23.) 12:9 (28.) 16:12 (35.) 19:14 (46.) 23:14 (49.) 26:16 (54.)