PSG and Kiel secure home wins!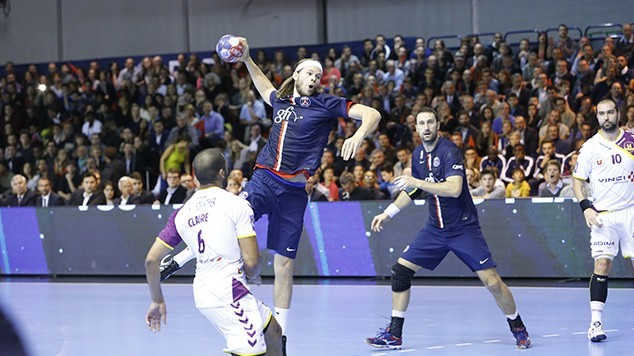 THW Kiel and PSG Handball celebrate their first wins in the VELUX EHF Champions League 2015/2016. French champions put maximum of efforts to beat Polish Orlen Wisla Plock 29:24 (16:13). Nikola Karabatic was the leader of his team with seven goals ahead of his brother Luka and Mikkel Hansen with 6.
Paris Saint-Germain HB – Orlen Wisła Płock 29:24 (16:13)
PSG: Omeyer, Annonay – Melić 1, Molgaard 1, Vori, Barachet 3, Gunnarson, Abalo 1, L. Karabatić 6, Hansen 6, Narcisse 2, Onufrijenko, Honrubia 2, N. Karabatić 7, M'timia.
Wisła: Corrales – Daszek, Wiśniewski 1, Ghionea 3, Kwiatkowski, Rocha 4, Oneto 1, Racotea 1, Pusica, Zelenović 1, Montoro 3, Tarabochia 1, Konitz, Żytnikow 5, Nikcević 3.
On the Baltic coast, THW Kiel had much easier 60 minutes against Turkish Besiktas MOGAZ 32:21 (16:12). Vujin, Dahmke and Wiencek were TOP scorers among the winners with six goals each, same as Done for the Turks.
STANDINGS:
1.

HC Prvo plinarsko drustvo …

2
2
0
0
50
:
42
(8)
4
2. MVM Veszprém
2
1
1
0
55
:
51
(4)
3
3. THW Kiel
2
1
0
1
54
:
50
(4)
2
3. RK Celje Pivovarna Lasko
2
1
0
1
50
:
45
(5)
2
5. SG Flensburg-Handewitt
2
1
0
1
63
:
60
(3)
2
6.

Paris Saint-Germain Handba…

2
1
0
1
61
:
63
(-2)
2
7. Orlen Wisla Plock
2
0
1
1
51
:
56
(-5)
1
8. Besiktas Jimnastik Kulubu
2
0
0
2
45
:
62
(-17)
0