SC Magdeburg sign Asmussen and Quenstedt at the goalkeeper position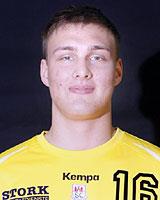 SC Magdeburg is having problems at the goalkeeper position as the Icelandic national team keeper Gustavsson due to arthritis. SCM solved the issue until at least New Year. Kristian Asmussen will join the club immediately from Nordsjaelland, and will play until the game against TuSEM Essen, which means after 26th of December he is going back to Denmark.
For the next season, Dario Quenstedt should be new option behind Gustavsson. He signed a deal until 2015, and already played for Magdeburg until 2011 when he joined Lubbecke. Frank Carstens should have the goalkeeping position solved for now.