SEHA: Zagreb and Metalurg take victories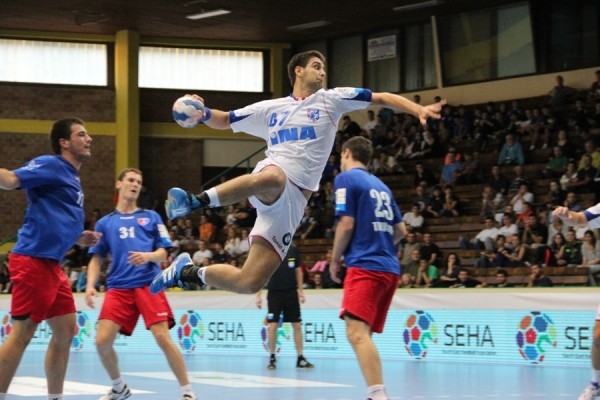 RK Zagreb and RK Metalurg had an easy opponents, and proved that they are the favorites by taking easy victories. The team of RK Zagreb PPD beat Radnicki Kragujevac with 27:18, but had trouble until the 15th minute of the game when Radnicki had a one-goal lead. The rest of the match was in Zagreb's favour, with Ilija Brozovic leading the team with 5 goals from 5 attempts. Radnicki's best was Ivan Rajicevic with 5 goals.
Metalurg Skopje did not work too hard to beat Borac Banja Luka 24:17. The Lino Cervar team took the lead from early start of the game, and held it until the end without Borac ever coming too close. Naumce Mojsovski scored 6 goals for Metalurg, while Nemanja Bezbradica had 5 goals for Borac.
In the derby of the bottom, RK Vojvodina and Nexe have player 26:26. The Serbian champions are still without a victory, a point behind Nexe…
STANDINGS:
| | | | | | | | |
| --- | --- | --- | --- | --- | --- | --- | --- |
| 1. | MKB-MVM Veszprem | 7 | 7 | 0 | 0 | 224 : 161 | 21 |
| 2. | Vardar | 8 | 7 | 0 | 1 | 242 : 204 | 21 |
| 3. | PPD Zagreb | 7 | 4 | 0 | 3 | 192 : 173 | 12 |
| 4. | Meshkov Brest | 5 | 4 | 0 | 1 | 151 : 132 | 12 |
| 5. | Tatran Prešov | 7 | 4 | 0 | 3 | 213 : 195 | 12 |
| 6. | Metalurg | 6 | 4 | 0 | 2 | 160 : 149 | 12 |
| 7. | Radnički | 8 | 1 | 1 | 6 | 209 : 244 | 4 |
| 8. | Nexe | 7 | 1 | 1 | 5 | 165 : 208 | 4 |
| 9. | Borac m:tel | 8 | 1 | 1 | 6 | 201 : 247 | 4 |
| 10. | Vojvodina | 9 | 0 | 3 | 6 | 213 : 257 | 3 |