SG Flensburg Handewitt come closer to remain at the TOP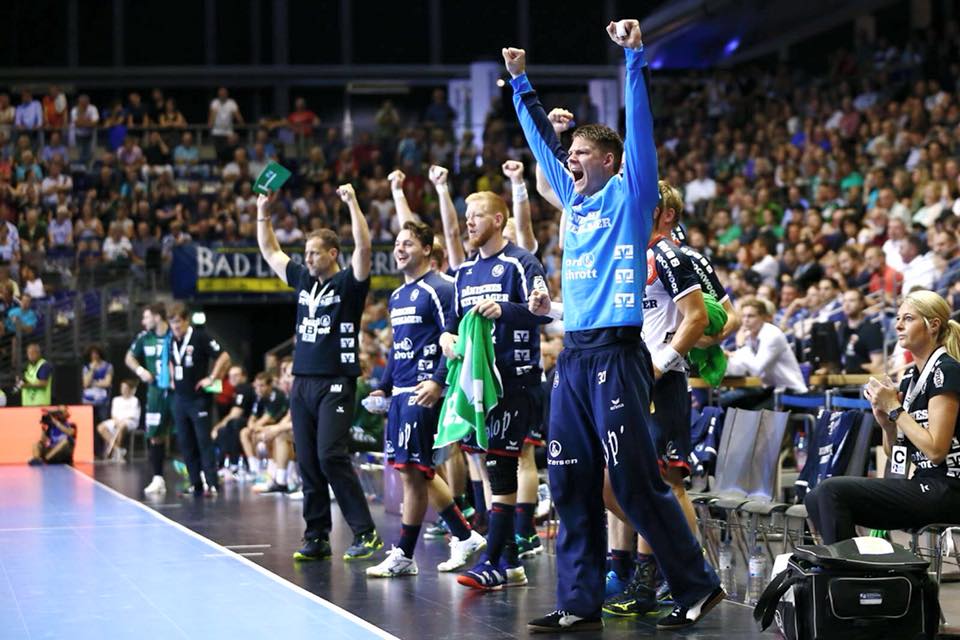 SG Flensburg Handewitt came closer to the new title at DKB Bundesliga after victory over DHfK Leipzig 27:21 (16:10). The team of Maik Machulla needs four wins in the last five matches of the season to remain at the TOP of the best handball league in the world.
The most successful team in German handball history behind THW Kiel, VfL Gummersbach are still in relegation battle after defeat in Wetzlar – 30:23.
Fuchse Berlin totally lost pace in the season. The "Foxes" lost sixth place against Bergischer…
SG Flensburg-Handewitt – DHfK Leipzig 27 : 21 (16:10)
SG Flensburg-Handewitt: Steinhauser 8, Gottfridsson 6, Jöndal 5/1, Lauge Schmidt 3, Hald 2, Röd 2, Johannessen 1
DHfK Leipzig: Wiesmach 7/1, Jurdzs 4, Rojewski 3, M. Gebala 2, Semper 2, Binder 1, Janke 1, Pieczkowski 1
HSG Wetzlar – VfL Gummersbach 30 : 23 (15:9)
HSG Wetzlar: Cavor 8/1, Holst 8/4, Forsel Schefvert 3, Rubin 3, Björnsen 2, Mirkulovski 2/1, Kneer 1, Lindskog 1, Torbrügge 1, Weissgerber 1
VfL Gummersbach: Sommer 5/2, Martinovic 4, Norouzi Nezhad 4, Preuss 3, Schröter 3, Herzig 2, Schukow 2
Die Eulen Ludwigshafen – MT Melsungen 22 : 27 (11:14)
Die Eulen Ludwigshafen: Dietrich 4, Bührer 3, Jer. Müller 3, Scholz 3, Spiler 3, Dippe 2, Haider 2, Durak 1/1, Valullin 1
MT Melsungen: Ignatow 7, Maric 5, Mikkelsen 4/2, Sidorowicz 4, F. Lemke 3, Allendorf 2, Birkefeldt 2
Bergischer HC – Füchse Berlin 28 : 26 (14:12)
Bergischer HC: Babak 6, Darj 5, A. Gunnarsson 4/1, Baena Gonzalez 3, Arnesson 2, Boomhouwer 2, Kotrc 2, Nippes 2, Gutbrod 1, Szücs 1
Füchse Berlin: Elisson 6, Lindberg 4/3, Zachrisson 4, Drux 3, Holm 3, Wiede 3, Koch 2, Marsenic 1
STANDING:
| | | | | | | | | |
| --- | --- | --- | --- | --- | --- | --- | --- | --- |
| 1. | Flensburg-H. | 29 | 28 | 0 | 1 | 827:662 | 56 | |
| 2. | Kiel | 28 | 25 | 0 | 3 | 838:673 | 50 | |
| 3. | Rhein-Neckar | 28 | 21 | 2 | 5 | 786:695 | 44 | |
| 4. | SC Magdeburg | 28 | 21 | 0 | 7 | 843:727 | 42 | |
| 5. | MT Melsungen | 29 | 18 | 0 | 11 | 791:768 | 36 | |
| 6. | Bergischer | 29 | 16 | 1 | 12 | 756:745 | 33 | |
| 7. | Fuchse Berlin | 29 | 16 | 0 | 13 | 786:765 | 32 | |
| 8. | Goppingen | 28 | 14 | 2 | 12 | 747:741 | 30 | |
| 9. | Lemgo | 28 | 11 | 4 | 13 | 719:717 | 26 | |
| 10. | Erlangen | 28 | 12 | 2 | 14 | 705:724 | 26 | |
| 11. | Minden | 28 | 11 | 1 | 16 | 778:787 | 23 | |
| 12. | HSG Wetzlar | 29 | 11 | 1 | 17 | 734:756 | 23 | |
| 13. | Hannover-Burgdorf | 28 | 10 | 2 | 16 | 771:790 | 22 | |
| 14. | Stuttgart | 28 | 10 | 2 | 16 | 761:831 | 22 | |
| 15. | Leipzig | 29 | 9 | 2 | 18 | 728:741 | 20 | |
| 16. | Gummersbach | 29 | 5 | 1 | 23 | 689:834 | 11 | |
| 17. | Bietigheim-Metterzimmern | 28 | 4 | 1 | 23 | 671:828 | 9 | |
| 18. | Ludwigshafen | 29 | 2 | 3 | 24 | 676:822 | 7 | |