EHF
Stine Bredal Oftedal is World Female Handball Player 2020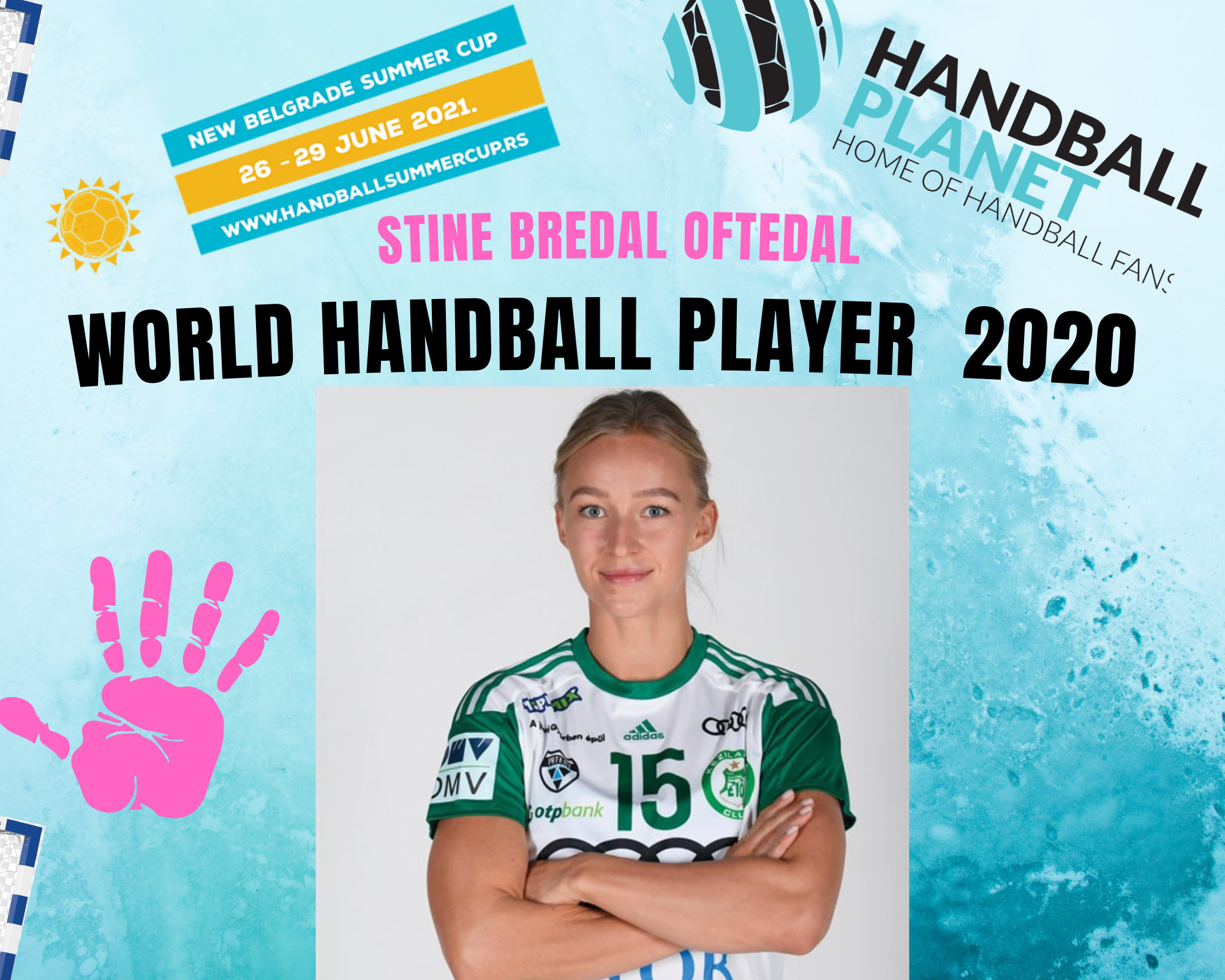 Handball-Planet.com is proud to announce the results of our traditional Contest for the WORLD FEMALE HANDBALL PLAYER 2020 powered by New Belgrade Summer Cup. The Norwegian superstar, playmaker of Gyori Audi ETO KC, Stine Bredal Oftedal, got the highest number of points based on cumulative votes of 9 members of the international jury of handball journalists and visitors of our website. The year 2020 ended with historical event Women's EHF EURO 2020 in Denmark where Norway took the gold medal on impressive way, but also was full of interesting matches despite troubles with pandemic.
This is the first Handball-Planet.com World Handball Player title for 30-years old playmaker who is playing in Hungarian TOP team since 2017.
In three weeks of voting, all of 32 nominated players have got amazing support by the handball community. Handball lovers voted (118.324) more than 16.000 higher than Men's (102.314) for their favorite players in eight categories.
TOP 5 IN 2020
FINAL RESULTS
VOTING PROCESS
JURY MEMBERS:
Bjorn Pazen (Handball Woche – Germany)
Lars Bruun-Mortensen (TV2.dk)
Johannes Lange (handbolti.is  – Iceland)
Jorge Dargel (MARCA, Spain)
Ibolya Szekeres (Time Out Mag, Norway)
Laura Agena (Handball-Planet.com, Argentina)
Života Bogdanović (Balkan-Handball.com, Serbia)
Stig Nygard (TV 2, Norway)
JURY MEMBERS FROM EUROPE AND SOUTH AMERICA
Our goal that handball world gets a public and fair contest for the World's best players of the year, since 2010 received a big support from the parts of handball globe. WORLD HANDBALL PLAYER 2020 Jury has consisted of people with their names and CV's with the clear aim to get opinion from different countries, continents, handball schools and traditions. Our Jury members are famous handball specialists in their countries, which coming from the biggest media (Marca, TV 2 NO, etc), but also from specialized websites and newspapers as timeout.org, Balkan-Handball.com, handballfast.ru…

LOKE, TOMORI, NEAGU, MORK, VYAKHIREVA…
Handball-Planet.com looking for the ninth World's Handball Player in the history of our Contest. The Norwegian line-player Heidi Loke won prestigious award three times (2011, 2013 and 2014), just like Romanian princess Cristina Neagu (2015,2016 and 2018).
The WORLD HANDBALL PLAYER 2012 was Hungarian left back Zsuzsanna Tomori, Nora Mork won in 2017 and Anna Vyakhireva in 2019.

WORLD HANDBALL PLAYER 2020 – PARTNERS
MASTERS HANDBALL WORLD CUP 2021 – MHWORLDCUP.COM