SWISS HANDBALL DERBY: Schaffhausen demolished Wacker Thun!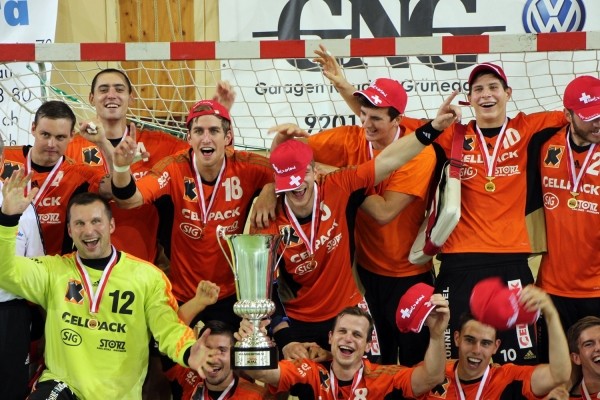 The guys of Markus Baur from KAdetten Schaffhausen didn't forgot the last Swiss Play-Off Final in which they are defeated from Wacker Thun, who finally stopped their four years domination. After an easy win in Swiss Super Cup at the beginning of the season, Kadetten demolished Wacker Thun 31:19 (14:7) in the Championship in front of 570 home fans at BCC Arena.
Telegramm (Si) Kadetten Schaffhausen – Wacker Thun 31:19 (14:7)
Kadetten Schaffhausen: Vaskevicicus/Meier; Kukucka (2), Emrich (2), Goepfert (1), Graubner (4), Starczan (5/1), Pendic, Mamic (1), Stojanovic (3), Heer (1), Jurca (6/2), Muggli (1), Tominec (5).
Wacker Thun: Winkler/Merz; Linder (2), Dähler (1), Isailovic (1), Franic (2/1), Lanz (1), Friedli, von Deschwanden (5), Chalkidis, Rathgeb, Huwyler (1), Hüsser (1), Studer (5).
This was the second defeat for EHF Cl competitor, Wacker Thun in four matches of the domestic Championship.
KAdetten have score 3 wins and one defeat over Winterthur, currently Championship leader alongised Luzern (7 points).