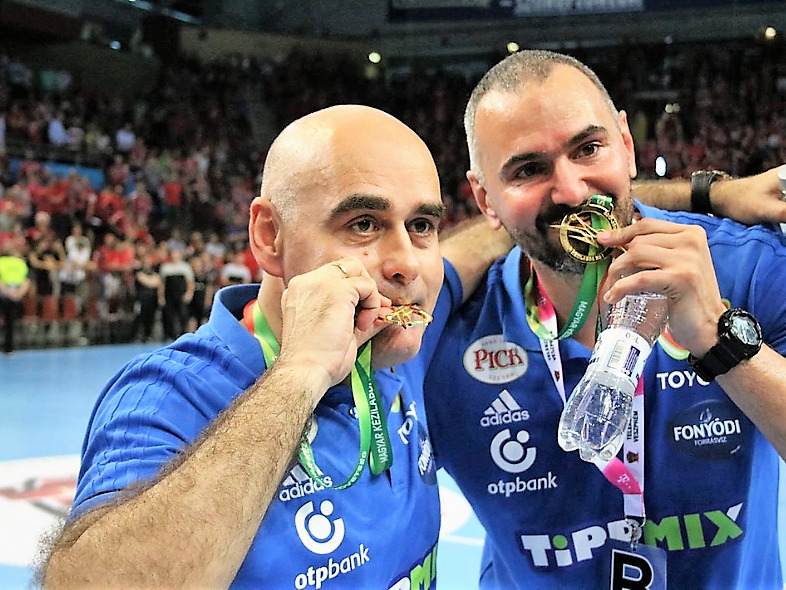 The coaching duo of Hungarian Pick Szeged Juan Carlos Pastor and Marko Krivokapic are leaving the club at the end of the season 2022/2023.
Their contract will be terminated by mutual agreement on June 30, 2023.
– After the consultation that took place yesterday, our club, head coach Juan Carlos Pastor and second coach Marko Krivokapic, agreed that the coaching pair will manage the PICK Szeged men's handball team until the end of the season, their contract will be terminated by mutual agreement on June 30, 2023. They formed the most successful coaching duo of our sixty-one-year-old club, and will continue to form until the end of the season. Three league titles, one Hungarian Cup success and one EHF Cup triumph are their achievements so far. According to our hopes, this series of results can increase even more this season, since this season is still long. We have experienced fantastic victories, championship titles, cup rounds together, which we will always be proud of, because together with them we achieved the most beautiful successes in the history of handball in Szeged. There can be no question that the next person, who will appear on the Wall of Legends in the PICK Arena will be Juan Carlos Pastor – stated the president of PICK Szeged, dr. Ernő Péter Szűcs.
– First of all, I would like to thank you for allowing me to sit on the bench of this wonderful club in 2013. We have a good period behind us, successes and victories, of which everyone is very proud. But it's not time to say goodbye yet, we have a lot of work to do, as there are many, many games left in the season. We did not give up on anything, we want to perform as well and efficiently as possible on all fronts. We are only looking ahead, working and training so that this season remains memorable, said head coach Juan Carlos Pastor.
– After finishing my playing career, I could immediately start working as a second coach at a club registered in Europe. It was a great challenge, but I enjoyed every moment of it, and I cannot be grateful enough for having spent such a wonderful time at PICK Szeged. But it's not over yet, we have one goal together with everyone, to make this season memorable – said the second coach of PICK Szeged, Marko Krivokapic.