Vote for NBSC World Handball Referees 2019?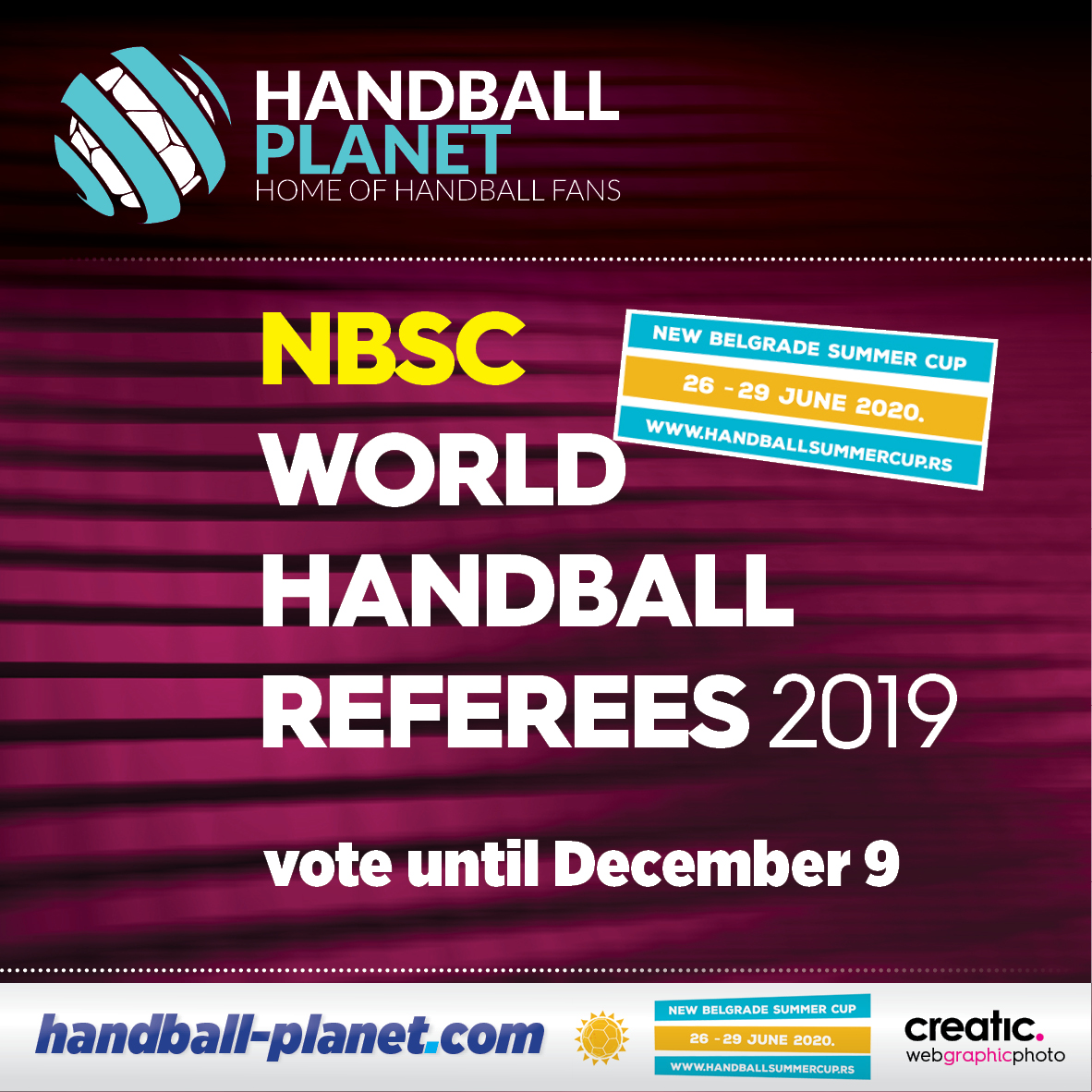 For the third year in a row, Handballl-Planet.com organizes the Contest for the NBSC WORLD HANDBALL REFEREE 2019! Voting process is based on opinion of 22 handball journalists from all over the world (20 countries). Handball-Planet.com Jury of handball Experts from four continents made the list of five best referee's pairs in Handball, who will compete for the title of WORLD HANDBALL REFEREE 2019 powered by New Belgrade Summer Cup.
The last member of Jury are Handball-Planet.com visitors, who can support their favourite coach by joining the Polls until December 9. It is important to be remembered that votes of handball fans across the globe will be added to existing number of points given by the journalist's jury.
Journalists and fans will together announce the best at the end of the voting process.
VOTE UNTIL DECEMBER 9
JURY MEMBERS:
Bjorn Pazen (Handball Woche, Germany)
Stig Nygard (TV 2, Norway)
Mladen Miletic (Vecernji List, Croatia)
Jasmin Tajić (Oslobodjenje, Bosnia and Herzegovina)
Jorge Dargel (MARCA, Spain)
Rici Gjamovski (G-sport.mk, North Macedonia)
Magda Pluszewska (EHF correspondent, Poland)
Yann Hildwein (L'Equipe, France)
Lars Bruun-Mortensen (TV 2, Denmark)
Sergey Novikov (handballfast.com, Russia-Belarus)
Ivar Benediktsson (mbl.is, Iceland)
Konstantinos Chatzidimitriou (e-HANDBALL.gr, Greece)
Igor Grachov (Komanda newspaper, Ukraine)
Adam Varga (Hetmeteres.com, Hungary)
Luca Zadra (Pallamanoitalia.it, Italy)
Sascha Staat (Kreis Ab – Der Podcast, Germany)
Sergey Prigolovkin (handballfast.com, Russia)
Sreten Raskovic (Arena Sport TV, Serbia)
Lojze Grčman (Atletia.si, Slovenia)
Johannes Hahn (ORF, Austria)
Života Bogdanović (Balkan-handball.com, Serbia)
JURY MEMBERS FROM THE TOP HANDBALL NATIONS
Our goal that handball world gets a public and fair contest for the World best players of the year, since 2010 received a big support from the parts of handball globe. NBSC WORLD HANDBALL PLAYER 2019 Jury is made of the people with their names and CV's with the clear aim to get opinion from different countries, handball schools and traditions. Our Jury members are famous handball specialists in their countries, which coming from the biggest media (Marca, TV 2 NO, TV 2 DK, L'Equipe, Arena Sport, Oslobodjenje), but also from specialized websites and newspapers as Handball Woche, Balkan-Handball.com, handballfast, E-handball, Pallamanoitalia.it…
WINNERS
2016 – Nacevski / Nikolov (Macedonia)
2017 – Gjeding / Hansen (Denmark)
2018 – Raluy / Sabroso (Spain)
WORLD HANDBALL COACH 2018 – PARTNERS
NEW BELGRADE SUMMER CUP – handballsummercup.rs
CREATIC – creatic.hu/

MASTERS HANDBALL WORLD CUP – mhworldcup.com