Following the huge success of the World Best Handball Players contest and with the clear vision to praise and recognize the potential of some young – new forces in our sport, for the fourth year in a row, Handball-Planet.com organizes the voting Contest for the WORLD FEMALE YOUNG HANDBALL PLAYER 2016/2017. Dozens of handball journalists from Norway, Denmark, Spain, France, Slovenia, Croatia, Serbia, Argentina, Italy, Russia and Belarus made the nominations of 28 players (four per position).
The last member of Jury are the visitors of Handball-Planet.com, which votes will be included in the final result.

Contest including the girls born in 1995 and younger.
Please vote for the ADRIATIC WORLD YOUNG FEMALE HANDBALL PLAYER 2015/2016 until May 31.
LEFT WING – VOTE
Itana Grbic (ZRK Buduchnost — Montenegro)
Júlia Harsfalvi (Gyori AUDI ETO KC – Hungary)
Laerke Noisoe Pedersen ( Nykobing — Denmark)
Maria Mose Vestergaard (Team Esbjerg – Denmark)

LEFT BACK – VOTE
Djurdjina Jaukovic (ZRK Buducnost — Montenegro)
Karina Sabirova (Astrahanochka – Russia)
Kjerstin Boge Solås (Tertnes – Norway)
Bianca Bazaliu (CSM Bucharest – Romania)

PLAYMAKER – VOTE
Daria Dmitrieva (Lada Togliati— Russia)
Elizabeth Omoregie (RK Krim Mercator – Bulgaria)
Matea Pletikosić (ZRK Budućnost – Croatia)
Tamara Horaček (Metz Handball – France)
RIGHT BACK – VOTE
Anna Vyakhireva (Rostov-Don — Russia)
Mette Tranborg (SK Aarhus — Denmark)
Kiss Nikolett (ERD HC – Hungary)
Anđela Janjušević (Siofok – Serbia)
RIGHT WING – VOTE
Viktoria Lukacs (FTC – Hungary)
Emma Ekenman-Fernis ( Savehof — Sweden)
Sara Ristovska (ZRK Vardar – Macedonia)
Malin Aune (Oopsal – Norway)
Ema Ramusovic (ZRK Buducnost — Montenegro)
Bobana Klikovac (Fehervar KC – Montenegro)
Annika Ingenpass (Tu S Metzingen – Germany)
Martine Wolff ( Glassverkert — Norway)
GOALKEEPER – VOTE
Anastasia Riabtseva (Astrahanochka – Russia)
Althea Reinhardt (HC Odense — Denmark)
Dinah Eckerle (Thüringer – Germany)
Iulia Dumanska (Craiova – Ukraine/Romania)
Members of the Jury:

Laura Agena (Argentina, HP Team)
Zika Bogdanovic (Serbia, Balkan-Handball.com)
Lojze Grčman (SIOL, Slovenia)
Stig Nygard (TV 2, Norway)
Sergei Novikov (PRESSBALL, Belarus)
Sergey Prigolovkin (Rushandball.ru, Russia)
Ibolya Szekeres (Time Out Magazine, Hungary-Norway)
Jorge Dargel Amigo (Marca, Spain)
Amina Idrizi (24rakomet.mk, Macedonia)
Jelena Bagarić (RTL, Croatia)
Bjorn Pazen (Handball Woche, Germany)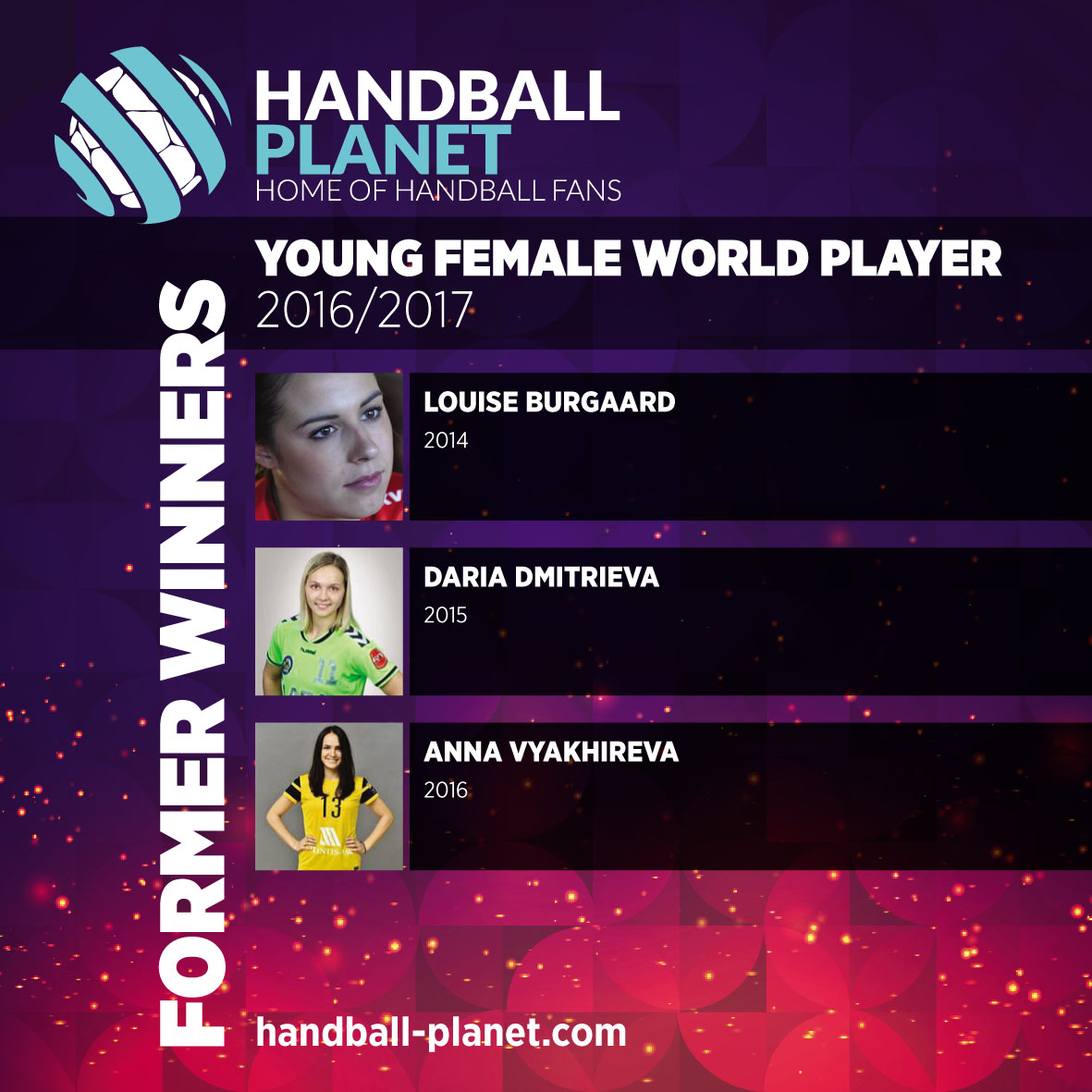 BURGAARD, DMITRIEVA AND VYAKHIREVA
Handball-Planet.com looking for the fourth best player on the Earth in the history of our Contest. Danish right back Louise Burgaard (2013/2014) won title two years ago, while in 2015, Russian playmaker Daria Dmitrieva was the BEST ahead of her compatriot Anna Vyakhireva in 2016.

13 NATIONS
Nominations by countries: Denmark, Russia and Montenegro (4), Hungary and Norway (3), Germany and Romania (2), Sweden, Serbia, Croatia, Bulgaria, Macedonia and France (1).