Vote for Young World Handball Player 2018/2019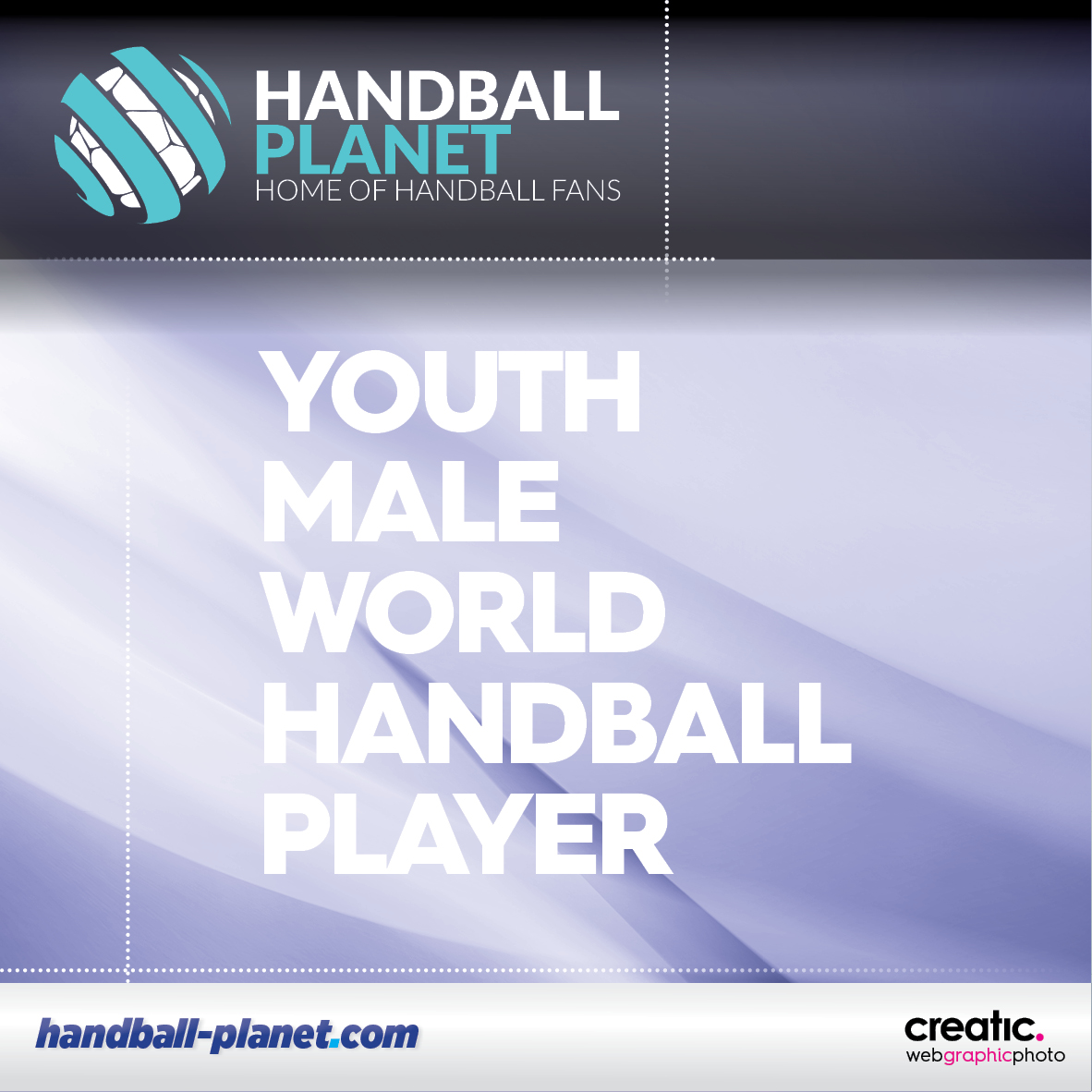 Following the huge success of the World Best Handball Players contest and with the clear vision to praise and recognize the potential of some young – new forces in our sport, for the sixth year in a row, Handball-Planet.com organizes the voting Contest for the WORLD YOUNG HANDBALL PLAYER of the season (2018/2019).
Traditionally, handball journalists from various European countries made the nominations of 28 players (four per position).
The last member of Jury are the visitors of Handball-Planet.com, which votes will be included in the final result.
Visitors can vote until June 23.
Contest including the boys born in 1997 and younger.
LEFT WING – VOTE
Dylan Nahi (PSG Handball – France)
David Mandic (RK PPD Zagreb – Croatia)
Jaime Fernandez (Abanca Ademar Leon – Spain)
Adam Keita (PSG Handball – France)
LEFT BACK – VOTE
Romain Lagarde (HBC Nantes – France)
Halil Jaganjac (RK Nexe Nasice – Croatia)
Daniel Dujshebaev (PGE Vive Kielce – Spain)
Andre Gomes (FC Porto Sofarma – Portugal)
PLAYMAKER – VOTE
Kylian Villeminot (Montpellier Handball – France)
Domen Makuc (RK Celje Pivovarna Lasko – Slovenia)
Haukur Thrastarson (Selfoss – Iceland)
Matyas Gyori (Tatabanya Grundfos – Hungary)
RIGHT BACK – VOTE
Dika Mem (Barca Lassa – France)
Melvyn Richardsson (Montpellier Handball – France)
Magnus Rod (SG Flensburg Handewitt – Norway)
Branko Vujovic (RK Celje Pivovarna Lasko -Montenegro)
RIGHT WING – VOTE
Aleix Gomez (Barca Lassa – Spain)
Arkadiusz Moryto (PGE Vive Kielce – Poland)
Valter Chrintz (IFK Kristianstad – Sweden)
Vukasin Vorkapic (RK Metaloplastika Sabac – Serbia)
LINE-PLAYER – VOTE
Johannes Golla (SG Flensburg Handewitt – Germany)
Luis Frade (Sporting CP – Portugal)
Robin Dourte (PSG Handball – France)
Joshua Thiele (TSV Hannover Burgdorf – Germany)
GOALKEEPER – VOTE
Emil Nielsen (Skjern Handbold – Denmark)
Till Klimpke (HSG Wetzlar – Germany)
Robin Paulsen Haug (HK Malmo – Norway)
Kilian Ramirez (Liberbank Cuenca – Spain)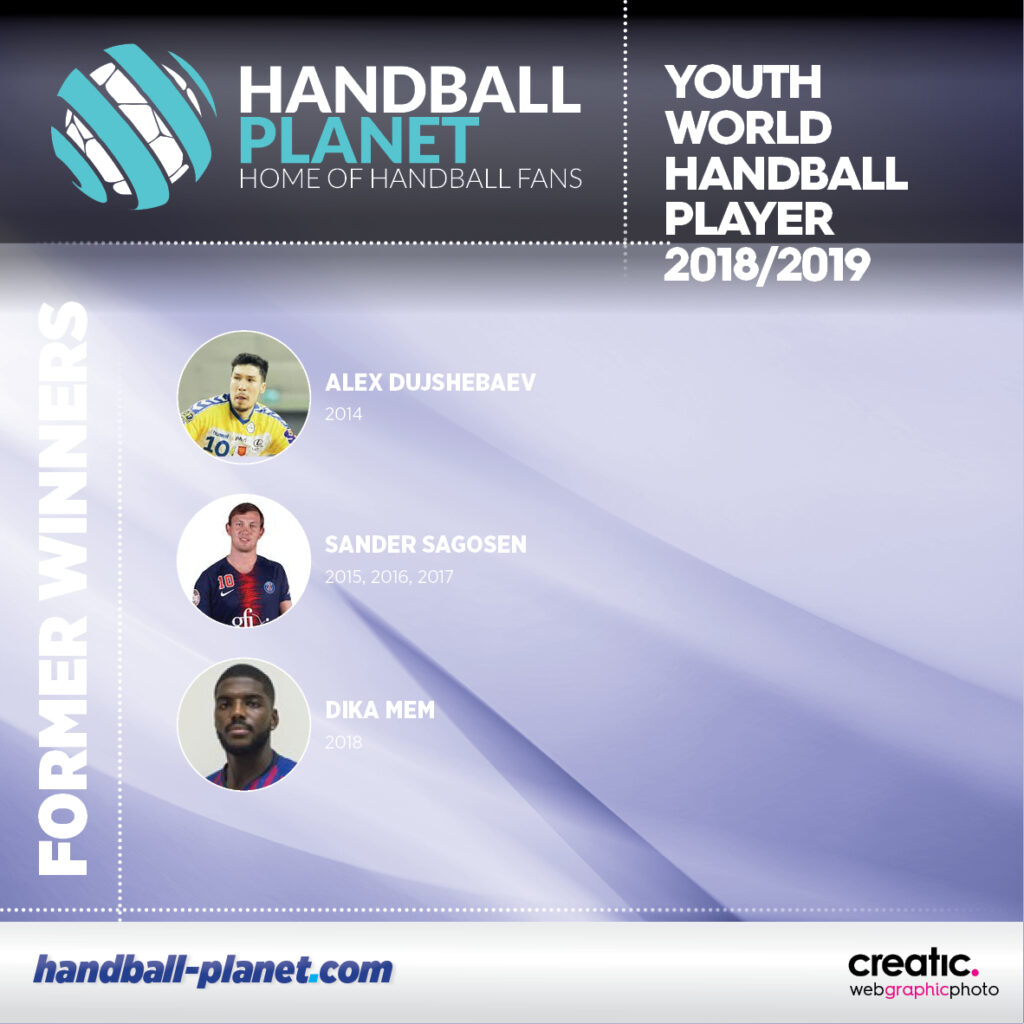 Previous winners:
Alex Dujshebaev 2014, Sander Sagosen 2015, 2016 and 2017, Dika Mem 2018
Members of the Jury:

Stig Nygard (TV 2, Norway)
Rici Gjamovski (g-sport.mk, Macedonia)
Jorge Dargel Amigo (Marca, Spain)
Marcin Gorcynski (SportoweFakty.pl, Poland)
Zika Bogdanovic (Balkan-Handball.com, Serbia)
Sreten Raskovic (TV Arena Sport)
Mladen Miletic (Vecernji List, Croatia)
Sascha Staat (Kreis Ab – Der Podcast, Germany)
Joszef Simon (Nemzeti Sport, Hungary)