With the beginning of the new season many interesting every-days stories is coming to our handball life. Handball-Planet.com decided to made a list of most interesting. Our visitors will choose the most important one:
SG FLENSBURG GOT THE "FIRST BATTLE"
Despite SG Flensburg isn't at TOP 4 at the club's budget list in German DKB Bundesliga, last season's runner-up is considered as one of the TOP 2 or TOP 3 biggest contender for the Championship. Ljubo Vranjes' team won the first trophy in the new season – DKB Bundesliga Super Cup over the biggest rival, THW Kiel. Is that just a beginning of celebration in Flensburg?
PSG – VESZPREM 1:2
Two teams with EHF CL F4 ambitions – French PSG and Hungarian Veszprem have played three friendly matches on three tournaments Final in three weeks! Ortega and Gardient, now, have clear situation what to do if these teams meet before Cologne or in "Lanxess Arena".  Veszprem leads 2:1, for now…
CADENAS AS "MAGIC"
Spanish coach Manolo Cadenas has got nickname "MAGIC"  at the beginning of his work in Polish Orlen Wisla Plock. Handball people already know how good coach is ex-leader of F.C Barcelona and current Spanish NT coach, but in career you always have to prove yourself. That Cadenas did against Montpellier at EHF CL qualification battle. How Wisla's fans will call him if they won the Polish Championship in front of Vive Targi Kielce?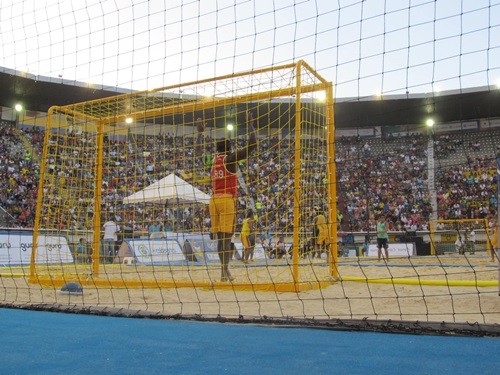 OMEYER AND MONTPELLIER – BREAK AFTER 12 LONG YEARS
The most succesful team in the history of French handball, Montpellier won't play at VELUX EHF Champions League after 12 years or 10 since they won the EHF CL title in 2003. Legendary Thierry Omeyer won't play at the elite competition for the first time after same period. Everything began with betting scandal last October, but new squad will have time to make better results in domestic LNH…
ONE CITY – TWO EHF CL TEAM – HANDBALL REVOLUTION IN MACEDONIA
Skopje – capital city of Macedonia, will have two teams at EHF Champions League. If we look closer, we don't remember for any such a case. RK Vardar and RK Metalurg. Handball revolution has the first positive effects in Macedonia and if we count strong women's ZRK Vardar, then, three EHF CL teams will host the rivals at "BORIS TRAJKOVSKI" Hall.
RIVERA BEST IN 2012?
IHF voting Contest for 2012 got the winner – Ex-Spanish NT coach Valero Rivera. Let's make a list of 2012 Rivera results – fourth at EHF EURO 2012 and 5-8th place at Olympic Games in London. What is wrong with this Contest? Rivera won the World's Gold in January 2013.
SELLING NATIONALITY – AGAIN
New "desert son" is Goran Stojanovic, ex-Montenegrian goalkeeper who suddenly found some "reasons" to play for Qatar at WCh 2015. Many people don't support IHF rule that player can change National Team after three years break. Do we need that? Why we don't have same rule as some bigger sports as football?
BARCA'S FIRST TROPHY
FC Barcelona Intersport have won the first trophy at the new season – IHF Super Globe 2013. The replay of the EHF CL Final from Cologne showed to whole handball world what can expect from the best world's team in 2013/2014 season.
BALIC IN BUNDESLIGA
Handball "MAESTRO", Ivano Balic decided to accept offer from HSG Wetzlar and for the first time try DKB Bundesliga at age 34. Legendary playmaker will give a new quality and attention to the best world's handball league.
COLOMBIA AND BEACH HANDBALL – TRUE LOVE!
Over 10.000 fans at Beach Handball Final Day during World Games in Cali, Colombia, gave a new dimension to this handball discipline. Beach Handball as a chance to make from handball global sport? Think about that?
500.000 PLAY HANDBALL IN FRANCE
French Handball Federation announced that 500.000 handball licences are made for the upcoming 2013/2014! Great news for all handball lovers and significant improvement for our sport in one of the biggest European countries.
Sorry, there are no polls available at the moment.