Women's EHF CL: ZRK Vardar beat Larvik in Norway!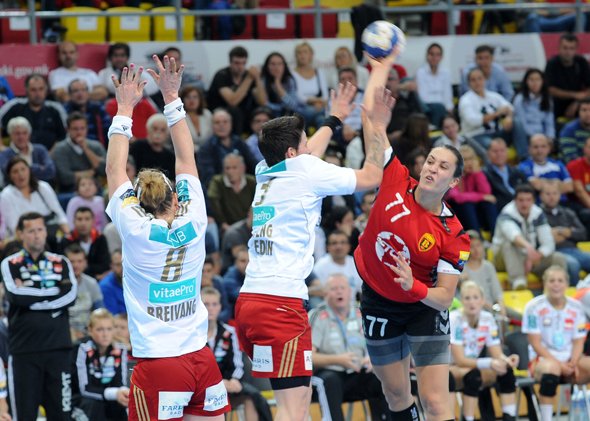 Macedonian "super-team" ZRK Vardar consisted from world class players from all over the world showing fantastic progress in the first months of work with Indira Kastratovic. Team from Skopje won the first place at the Preliminary Group of the Women's EHF Champions League by away win in Norway against strong Larvik HK 31:29 (15:15). Macedonian squad had +5 couple of time in the second half, but home team managed to get back in the last 10 minutes of the match…
Larvik – ŽRK Vardar SCBT 29:31 (15:15)
Larvik: Rantala (13 saves), Hasanic (1 odbrana), Blanko 4, Breving 5, A. Hamergsen 3, G.Hamergsen, Koren 3, Kristiansen 2, Kristiansen, Loke, Lund , Mork 6, Mork 1, Stange, Suland 4.
ŽRK Vardar SCBT: Suslina (14 saves), Leynaud, Crvenkovska 3, Dembele 5, Djokić 1, Dmitrović, Fernandez, Hmirova 6, Klikovac 3, Kostuikova, Lekić 3, Lojpur, Nikolić 3, Radičević 7, Šteriova, Zebić.
STANDINGS:
| | | | | | | | | | |
| --- | --- | --- | --- | --- | --- | --- | --- | --- | --- |
| 1. WHC Vardar SCBT | 6 | 5 | 1 | 0 | 185 | : | 138 | (47) | 11 |
| 2. Larvik | 6 | 4 | 1 | 1 | 170 | : | 133 | (37) | 9 |
| 3. HC Podravka Vegeta | 5 | 1 | 0 | 4 | 109 | : | 150 | (-41) | 2 |
| 4. Balonmano Bera Bera | 5 | 0 | 0 | 5 | 95 | : | 138 | (-43) | 0 |